Orange Creamsicle™ Slab Pie
Reminiscent of your favorite summertime treat, this creamy layered slab pie is the perfect crowd-sized dessert for warmer weather. Pillsbury™ pie crust forms the base, followed by a combination of vanilla pudding, orange Jello-O™ gelatin and Cool Whip™ whipped topping. Top it all with Golden Oreo™ cookies and colorful sprinkles.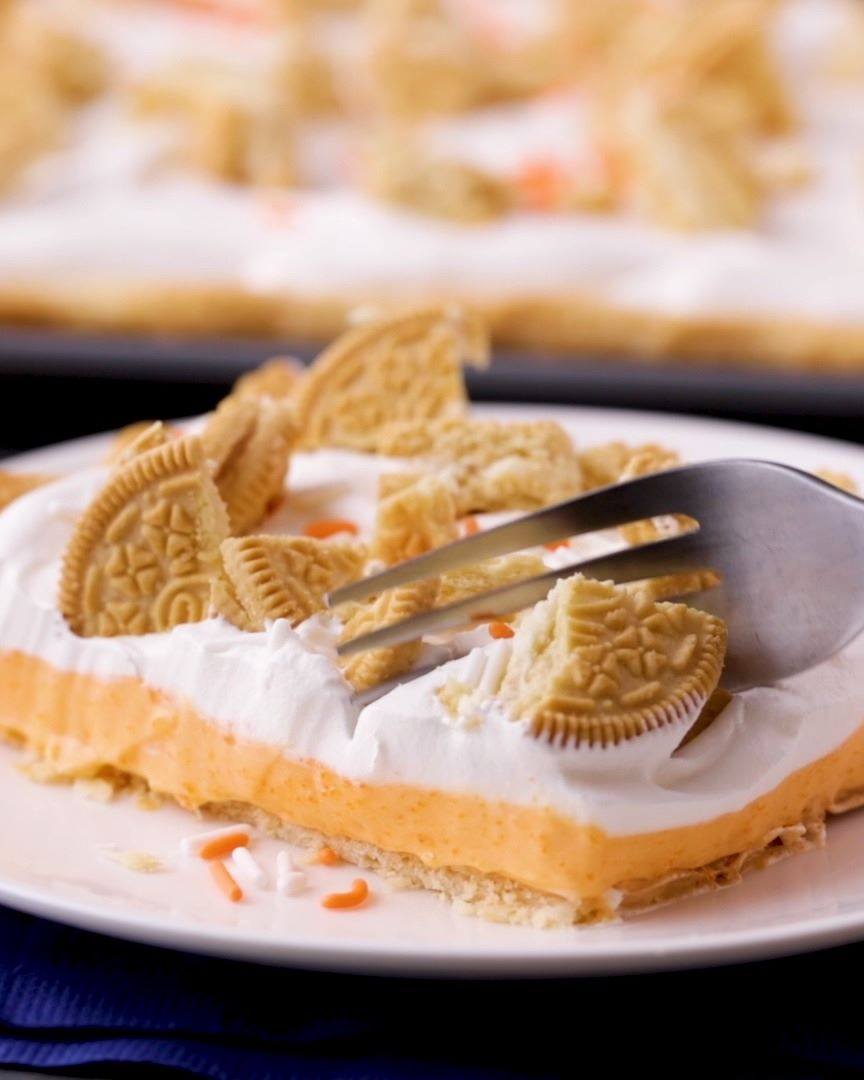 Ingredients
1 box Pillsbury™ refrigerated pie crusts, softened as directed on box
2 boxes (3 oz each) Jell-O™ orange-flavored gelatin
⅓ cup boiling water
2 boxes (3.4 oz each) Jell-O™ vanilla-flavor instant pudding & pie filling mix
2 cups cold milk
1 container (12 oz) Cool Whip™ frozen whipped topping, thawed
1½ cups chopped Golden Oreo™ cookies (about 12 cookies)
1 tablespoon orange and white jimmies
Instructions
Heat oven to 450°F. Remove crusts from pouches. On lightly floured surface, unroll and stack crusts one on top of the other. Roll to 17x12-inch rectangle. Fit crust into ungreased 15x10x1-inch pan, pressing firmly into corners and sides. Fold extra crust under, even with edges of pan. Using fork, prick all over bottom and sides.
Bake 10 to 12 minutes or until golden brown and completely baked. Cool completely on cooling rack, about 15 minutes.
In small bowl, add gelatin and boiling water; stir occasionally 2 minutes. Set aside. In large bowl, beat dry pudding mixes and milk with whisk about 2 minutes or until thick. Beat in dissolved gelatin mixture with whisk until well mixed. Let stand 5 minutes. Stir in 1 cup of the whipped topping.
Spread pudding mixture evenly onto cooled baked crust. Drop spoonfuls of remaining whipped topping (about 3 cups) on pudding layer, and carefully spread to cover. Refrigerate at least 4 hours until set.
Before serving, top with cookies and jimmies. To serve, cut into 4 rows by 4 rows.
Watch the recipe video here: