Crunchy California Roll Sushi Bowl
Crunchy California Roll Sushi Bowl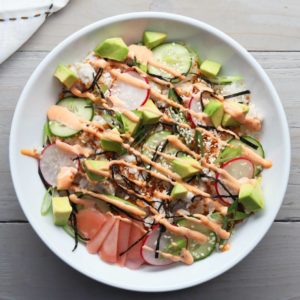 Ingredients
2 cups water (480 mL)
1 teaspoon kosher salt, plus more to taste
1 cup sushi rice, rinsed until the water runs clear (200 g)
1 tablespoon sugar
¼ cup rice vinegar (60 mL)
1 tablespoon canola oil
⅓ cup panko breadcrumbs (15 g)
½ teaspoon pepper, plus more to taste
¼ cup mayonnaise (60 g)
1 tablespoon siracha
16 oz crab, 2 cans, drained (455 g)
1 persian cucumber, thinly sliced
4 radishes, thinly sliced
2 tablespoons nori, thinly sliced
1 bunch scallion, thinly sliced on the bias
1 tablespoon sesame seed
2 tablespoons pickled ginger
1 avocado, diced
Instructions
In a small pot, season the water with a pinch of salt. Bring to a boil over high heat. Add the rinsed rice and return to a boil. Cover, reduce the heat to simmer, and cook for 20 minutes, until the water is absorbed and the rice is tender.
In a small bowl, stir together the sugar, salt, and rice vinegar. Microwave for 2 minutes, or until the sugar dissolves.
Transfer the cooked rice to a medium bowl and pour the vinegar mixture over it, then stir well using a wooden spoon.
Heat the canola oil in a medium pan over medium-high heat. Once the oil begins to shimmer, add the panko and cook, stirring frequently, until golden brown, 1-2 minutes. Season with salt and pepper, and remove from the heat.
In a small bowl, stir together the mayonnaise and Sriracha until smooth.
To assemble the bowls, divide the seasoned rice between 2 serving bowls. Top with the crab, crispy panko, cucumber, radish, nori, scallions, sesame seeds, pickled ginger, and avocado. Drizzle the Sriracha mayonnaise over the top.
Enjoy!
Watch the recipe video here:
It's always a good time for a sushi bowl ??Get the recipe: https://tasty.co/recipe/crunchy-california-roll-sushi-bowl

Posted by Tasty on Wednesday, December 19, 2018