GRILLED PESTO CHICKEN COUSCOUS BOWLS
Juicy grilled chicken, zucchini and tomatoes topped with a light spinach-arugula basil pesto served over couscous.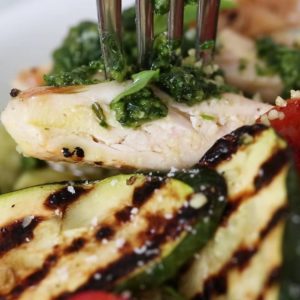 Ingredients
1 cup original Earthly Grains Couscous
1⅓ cups boiling water
Kosher salt and Stonemill Ground Black Pepper
2 medium zucchini, diagonally sliced ¼ inch thick
6 medium Campari tomatoes, halved
Carlini Olive Oil Cooking Spray
4 boneless Never Any! Fresh Organic Chicken Breasts, 6 ounces each
Spinach Arugula Pesto
½ cup fresh packed basil leaves
½ cup fresh packed SimplyNature Organic Baby Spinach & Arugula Mix
1 clove garlic
¼ cup grated Priano Parmesan
Stonemill Salt
Stonemill Ground Black Pepper, to taste
3 tablespoons SimplyNature Extra Virgin Olive Oil
Instructions
To make the pesto: In a food processor, pulse basil, spinach and arugula mix, garlic, parmesan cheese, salt and pepper until smooth. Slowly add the olive oil while pulsing.
Place couscous in a medium, heat-proof bowl. Add boiling water and ¼ teaspoon salt. Cover.
Let stand for 5 minutes or until liquid has been absorbed. Fluff couscous with a fork to separate grains.
Add 2 tablespoons of the pesto. Toss to combine and set aside.
Pound the thicker end of the chicken to make both sides leveled out so they cook evenly.
Spritz with oil and season with ½ teaspoon salt and black pepper.
Heat a grill or grill pan on medium-high heat.
Spritz the zucchini and tomato all over with olive oil, season with salt and pepper.
Cook zucchini, in batches, for 2 to 3 minutes each side or until tender. Transfer to a baking sheet. Cover to keep warm.
Add tomato to the grill. Cook, turning, for 1 to 2 minutes or until softened.
Cook the chicken 3 to 4 minutes each side or until browned and cooked through. Slice.
Divide couscous between 4 plates, ¾ cup each.
Top with vegetables and chicken. Drizzle with remaining pesto. Serve.
Grilled Pesto Chicken Couscous Bowls, so summery and fresh!9 Freestyle Points • 505 Calories https://www.skinnytaste.com/grilled-pesto-chicken-couscous-bowls/

Posted by Skinnytaste on Saturday, August 3, 2019