Two-Berry Pavlova
Here's a light and airy dessert that I first tried in Ireland. When I got home, I made it for my kids, who loved to build their own with their favorite fruits. The whipped cream makes for icing on the cake!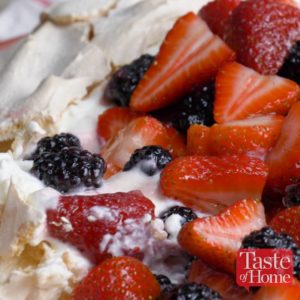 Ingredients
4 large egg whites, room temperature
½ teaspoon cream of tartar
1 cup sugar
1 tablespoon cornstarch
1 teaspoon lemon juice
TOPPINGS:
2 cups fresh blackberries
2 cups sliced fresh strawberries
¼ cup plus 3 tablespoons sugar, divided
1-1/4 cups heavy whipping cream
Instructions
Place egg whites in a large bowl. Line a baking sheet with parchment; draw a 10-in. circle on paper. Invert paper.
Preheat oven to 300°. Add cream of tartar to egg whites; beat on medium speed until soft peaks form. Gradually add sugar, 1 tablespoon at a time, beating on high after each addition until sugar is dissolved. Continue beating until stiff glossy peaks form. Fold in cornstarch and lemon juice.
Spoon meringue onto prepared pan; with the back of a spoon, shape into a 10-in. circle, forming a shallow well in the center. Bake until meringue is set and dry, 45-55 minutes. Turn off oven (do not open oven door); leave meringue in oven 1 hour. Remove from oven; cool completely on baking sheet.
To serve, toss berries with ¼ cup sugar in a small bowl; let stand 10 minutes. Meanwhile, in a large bowl, beat cream until it begins to thicken. Add remaining sugar; beat until soft peaks form.
Remove meringue from parchment; place on a serving plate. Spoon whipped cream over top, forming a slight well in the center. Top with berries.
Health Tip:
Anthocyanins are a group of compounds that give berries their vibrant red-violet color. They may help protect against cardiovascular disease and cancer.
Watch the recipe video here: