Grilled Chorizo-Stuffed Hasselback Pineapple
Calling all adventurous grillers: Every forkful of this stuffed and grilled pineapple is sweet, salty and spicy. The teriyaki cucumber salad adds a perfect cooling bite.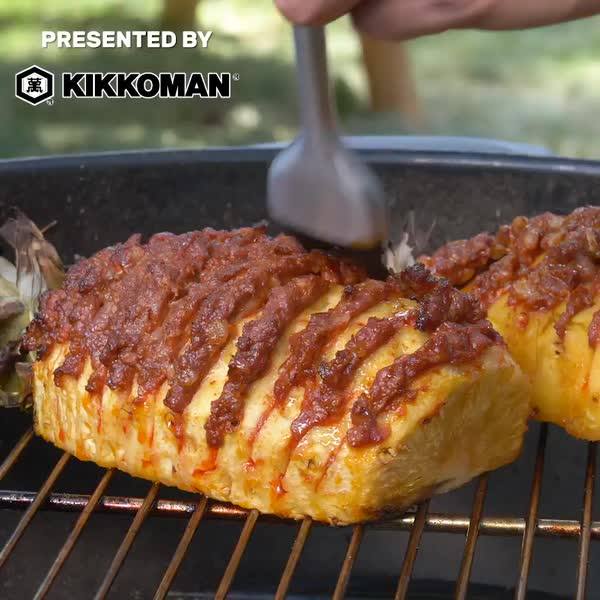 Ingredients
1 ripe pineapple
1½ cups teriyaki sauce, such as Kikkoman® Teriyaki Marinade and Sauce
1 pound bulk fresh chorizo
1 English cucumber, halved and thinly sliced
1 Fresno chile, seeded and thinly sliced
Juice of 1 lime
½ red onion, thinly sliced
Warm cooked rice, for serving
Instructions
Prepare a grill for medium indirect heat: For gas grills (with 3 or more burners), turn all the burners to medium-high heat; after about 15 minutes, turn off one of the middle burners and turn the remaining burners down to medium. For charcoal grills, bank one chimney starter-full of lit and ashed-over charcoal briquettes to one side of the grill. Set up a drip pan on the other side to avoid flare-ups. (Be sure to consult the grill manufacturer's guide for best results.)
Slice ½ inch off the bottom of the pineapple to remove the skin and make the bottom flat. Stand the pineapple on a cutting board, holding it from the top, and use a knife to slice away all the skin from the sides. Cut the pineapple in half lengthwise, starting at the crown and going straight down through the core to the bottom. Position one pineapple half core-side down on the cutting board and place a wooden spoon along each long side (this will prevent you from cutting all the way through the pineapple). Make vertical cuts in the pineapple every ¼ inch, stopping when the knife hits the spoons. Repeat with the remaining pineapple half.
Transfer the pineapple halves to a 9-by-13-inch baking dish and pour 1 cup of the teriyaki sauce over them. Let sit for 10 minutes, flipping halfway through. Put a small bowl upside down on a work surface and lay one pineapple half over it, core-side down. Gently press the ends of the pineapple half down towards the work surface so the slits open and fan out a bit. Divide the chorizo in half and stuff each slit with some of the chorizo. Repeat with the remaining pineapple half and chorizo.
Put the pineapple halves core-side down on the indirect-heat side of the grill and cover the grill. Cook until the chorizo is golden brown and the pineapple halves are dark yellow and tender, 25 to 35 minutes. Brush with ¼ cup of the teriyaki sauce and transfer to a cutting board.
Add the cucumber, chile, lime juice, onion and remaining ¼ cup teriyaki sauce to a medium bowl and mix to combine.
Stand up each pineapple half on a cutting board, hold it firmly by the crown and slice down the length into pieces. Serve over rice with the cucumber salad.
Watch the recipe video here: