This Caramel Apple French Toast Casserole Is the Yummiest Twist for Your Weekend Breakfast
French toast is a staple in my household, so we're always looking for new ways to put a delicious spin on the classic breakfast. This Caramel Apple French Toast Casserole is absolutely scrumptious, and uses up all those yummy apples that are in season right now. This french toast recipe is so easy, as there's no need to fry each piece of bread individually - just throw it all in a casserole dish and bake it in the oven! You'll love the heavenly aroma that will fill your home in the morning, and you'll love eating this even more!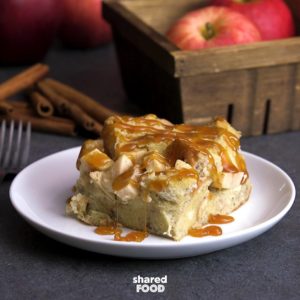 Ingredients
10 cups crusty French bread, cut into 1 inch cubes
2 heaping cups peeled apples, cut into ½ inch cubes
8 eggs
2 cups heavy cream
2 teaspoon apple pie spice
Caramel topping
2 tablespoon walnuts, chopped
Instructions
Preheat oven to 350 degrees.
Place bread cubes in a greased 9x13 inch baking pan, then top with apples.
In a separate bowl, combine eggs, cream, and apple pie spice. Whisk until smooth.
Pour egg mixture over bread & apples.
Bake 45-60 minutes, or until golden brown and cooked through.
Remove from oven and drizzle with caramel topping and chopped walnuts before serving.
Watch the recipe video here: