Pizza Croquettes
Pizza Croquettes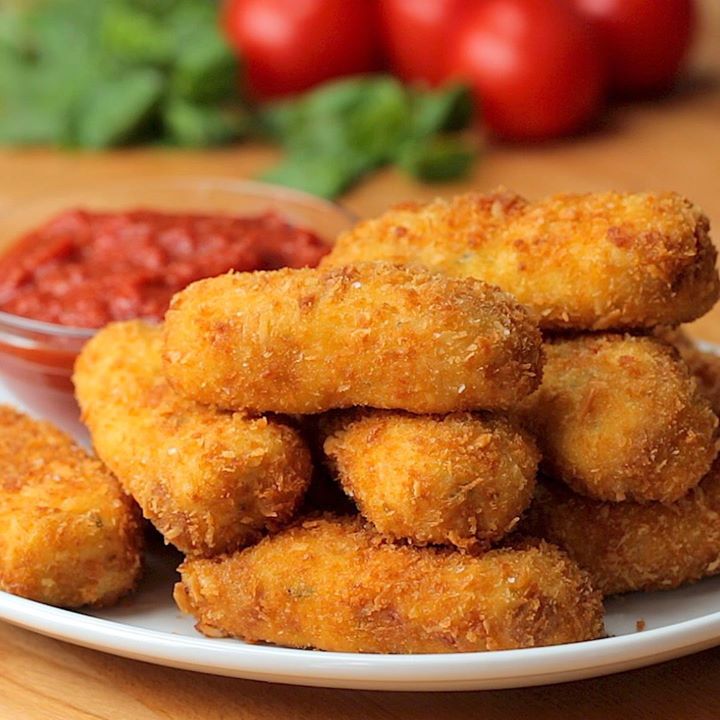 Ingredients
1 cup spicy hot mini pepperoni, sliced finely
2 tbsp olive oil
¼ cup unsalted butter
½ small white onion, finely diced
1 cup plain flour
2 cups whole milk, hot
½ cup grated mozzarella
2 tbsp finely chopped basil
½ tsp oregano
1 tsp of salt
½ tsp black pepper
2 free-range eggs, beaten
150g panko breadcrumbs
1 litre olive oil, to fry
Instructions
Heat the oil and butter in a medium non-stick saucepan over a medium heat add the onion and pepperoni. Cook for about 5-6 minutes until the onion has softened.
Add the flour and cook, stirring regularly, until no longer raw.
Gradually whisk in the hot milk, until you have a smooth paste. Cook for another 10 minutes until thick like mashed potato. Stir in mozzarella, basil, oregano, salt, and pepper. Transfer to a shallow dish then cover, pressing the clingfilm on to the surface of the sauce to prevent a skin from forming. Refrigerate for at least 2 hours.
Put the beaten eggs into a bowl, and the panic breadcrumbs into another and remaining ½ cup flour in another. Season the flour with remaining salt and pepper. With floured hands, roll spoonfuls of the mixture into cylinders and dip these into the egg, then roll in the panko breadcrumbs until well coated.
Heat the oil in a large pan to 180C, or until it begins to shimmer. Fry the croquetas in batches for a couple of minutes until golden all over, then lift out with a slotted spoon and drain slightly. Serve immediately.
Enjoy!
Watch the recipe video here:
Pizza Croquettes

Posted by Twisted on Monday, September 11, 2017