BUFFALO CHICKEN PASTA BAKE & CHEESY GARLIC BREAD
Those of you object to double carbicide look away now. This is the height of indulgence, a veritable cascade of molten cheese, a flood of flavour so delicious your tastebuds will wonder what they've been missing all these years. And yes, it does involve both pasta and bread. Spicy, tangy, creamy buffalo chicken pasta scooped up with garlic butter drenched baguettes? Yes please.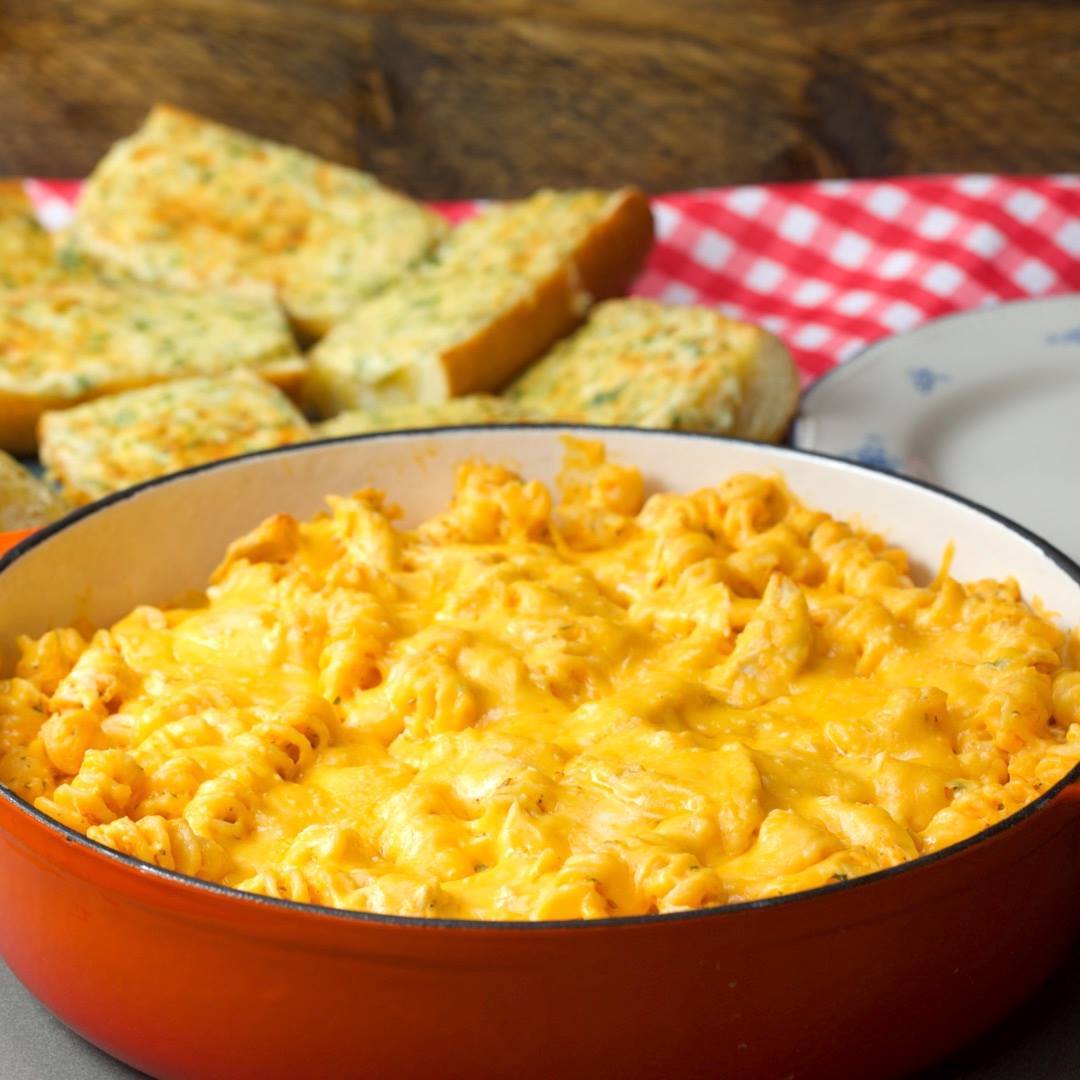 Ingredients
400g cream cheese, softened
250ml hot sauce
150ml double cream
2 tbsp Italian herbs
1 tsp salt
1 tsp pepper
3 cooked chicken breasts, shredded
400g fussili pasta, cooked to packet instructions
Grated cheddar
For the garlic bread
1 baguette, chopped into sections
100g butter, softened
4 tbsp mayonnaise
70g parmesan
70g cheddar
3 tbsp finely chopped parsley
4 garlic cloves, crushed
1 tsp salt
1 tsp pepper
Instructions
Preheat the oven to 180°C/360°F.
Mix the cream cheese, hot sauce, double cream, Italian herbs, salt and pepper together to make a smooth sauce.
Add the shredded chicken and cooked pasta. Stir everything together, then pour into a baking dish and scatter with cheddar.
Bake for 20 minutes or until all melted and delicious.
Meanwhile, mix together the butter, mayonnaise, cheeses, garlic, parsley and season.
Take the baguette and slice it in half lengthways. Spoon the cheesy mixture onto it and grill or oven bake for roughy 5 minutes, until bubbling and melted.
Serve with the pasta.
Enjoy!
Watch the recipe video here: