Apple Honey Glazed Chicken
This is my favorite chicken recipe. Everyone in my family loves this recipe and it is super easy!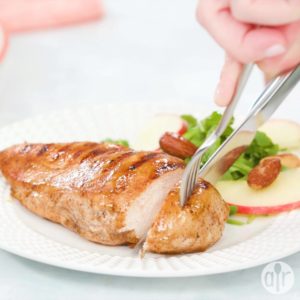 Ingredients
½ cup apple jelly
1 tablespoon honey
1 tablespoon Dijon mustard
½ teaspoon ground cinnamon
½ teaspoon salt
4 skinless, boneless chicken breast halves
Instructions
Preheat an outdoor grill for medium-high heat and lightly oil the grate.
Mix apple jelly, honey, mustard, cinnamon, and salt together in a bowl. Brush chicken breasts with glaze.
Place glazed chicken breasts on the preheated grill; cook, occasionally brushing chicken with more glaze, until chicken is no longer pink in the center, about 10 minutes per side. An instant-read thermometer inserted into the center should read at least 165 degrees F (74 degrees C).
Watch the recipe video here: