Giant Peanut Butter Cup
Giant Peanut Butter Cup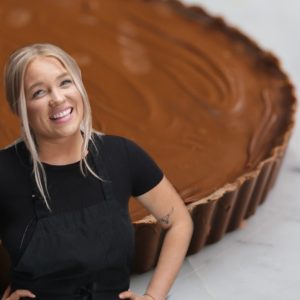 Ingredients
4 cups milk chocolate chips, divided (700 g)
2 cups creamy peanut butter (480 g)
2 cups powdered sugar, sifted (320 g)
½ cup butter, softened (115 g)
Instructions
In a small bowl, place half of the chocolate chips.
Melt in the microwave in 30 second intervals, stirring in between, until fully melted.
Pour melted chocolate into a 10-inch (25 cm) tart pan making sure to coat the entire pan, including all sides.
Refrigerate until set.
In a large bowl, place the peanut butter, powdered sugar, and softened butter and mix until smooth.
Pour the peanut butter into the tart pan and smooth the surface.
Melt remaining chocolate and pour over the peanut butter.
Smooth out the chocolate making sure it covers the entire surface.
Refrigerate until set, about 1 hour.
Slice and serve.
Enjoy!
Watch the recipe video here:
How To Make A Giant Peanut Butter Cup With AlixGet the recipe: https://tasty.co/recipe/giant-peanut-butter-cup

Posted by Tasty on Wednesday, July 31, 2019