Teriyaki Chicken Fried Rice Dome
This chicken teriyaki fried rice dome is everything you need all in one — the perfect dish for your next family dinner! ?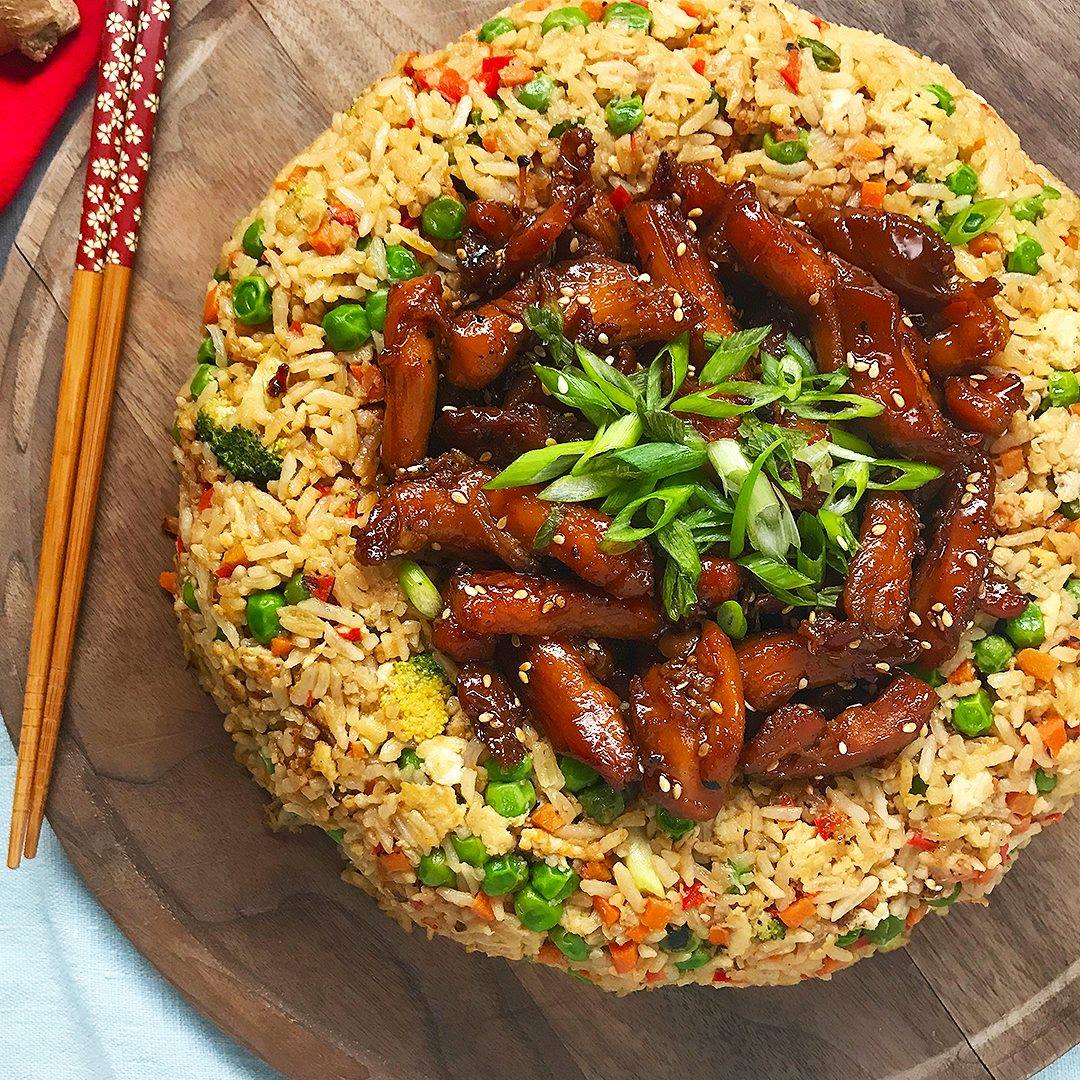 Ingredients
¼ cup (50 g) sugar
½ cup (120 mL) soy sauce, plus 3 tablespoons, divided
½ cup (120 mL) mirin
2 lb (910 g) boneless, skinless chicken thighs, sliced
1 tablespoon canola oil
2 carrots, peeled and minced
1 medium onion, minced
1 red bell pepper, seeded and minced
salt, to taste
pepper, to taste
1 cup (150 g) peas
1 cup (150 g) broccoli florets
3 tablespoons sesame oil, divided
2 tablespoons garlic, minced
1 tablespoon ginger, minced
4 cups (1 kg) white rice, cooled
6 large eggs, beaten
1 sesame seeds, for garnish
scallions, sliced, for garnish
Instructions
In a liquid measuring cup or small bowl, mix together the sugar, ½ cup (120 ML) soy sauce, and the mirin.
Add the chicken to a large bowl. Pour ½ cup (130 G) of the marinade over the chicken and save the rest for later. Toss the chicken to coat, cover with plastic wrap, and marinate in the fridge for 30 minutes.
Add the canola oil to a wok or a large skillet over high heat. When the oil begins to shimmer, add the carrots, onion, and pepper. Season with salt and pepper. Cook, stirring occasionally, until starting to soften, 5 minutes.
Add the peas and broccoli florets to the skillet. Cook, shaking the pan or stirring, for about 3 more minutes, until the broccoli becomes slightly tender. Remove the vegetables from the skillet.
Add 2 tablespoons of sesame oil to the skillet and heat until it shimmers, then add the minced garlic and ginger. When the mixture is fragrant, about 15 seconds later, add the cooked rice, breaking up clumps with a spoon and tossing in the oil.
When the rice is well-coated, push to one side of the skillet and add the beaten eggs to the other side. Scramble until it starts to set, then return the veggies to the pan and stir into the rice to incorporate. Add the remaining 3 tablespoons of soy sauce. Stir until well-combined.
Transfer the rice mixture to a greased bundt pan. Pack the rice down slightly. Cover and set aside.
Heat the remaining tablespoon of sesame oil in the skillet. Add the marinated chicken and cook until browned on all sides, about 10 minutes. Add the reserved teriyaki sauce and cook until reduced and thickened slightly. Sprinkle with sesame seeds.
Invert the fried rice dome onto a serving platter. Pour the hot teriyaki chicken into the center of the dome and garnish with sliced scallions.
Enjoy!
Watch the recipe video here:
Teriyaki Chicken Fried Rice Dome

This chicken teriyaki fried rice dome is everything you need all in one — the perfect dish for your next family dinner! ?FULL RECIPE: https://tasty.co/recipe/teriyaki-chicken-fried-rice-domeGet the wok featured in this video right HERE: https://bzfd.it/2Lz0mdI – We may make some $$ if you buy!

Posted by Tasty on Friday, July 20, 2018