Cheesy Hash Brown Breakfast Roll
For all of you out there that are indifferent to the infamous 'continental option', look no further. Proper fry-ups are, generally speaking, greater than the sum of their parts. It's even been said that the poorer the constituent parts, the greater the fry-up. Well imagine if all of the parts were pretty good already, then someone decided to wrap them up in a massive sheet of hash brown. *drops cafetiere*. What a fantastic idea - here's how to make it: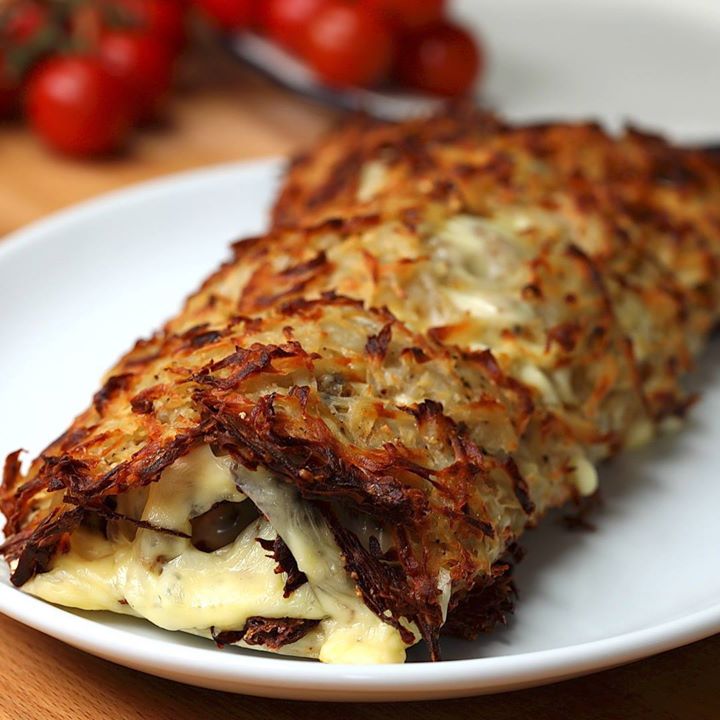 Ingredients
1kg grated potatoes, squeezed of excess water and drained
1 cup parmesan, grated
1 tsp garlic powder
1 tsp black pepper
1 tsp salt
1 cup cooked sausage
1 cup crispy bacon
12 slices swiss cheese
2 tbsp melted butter
Instructions
To your grated potatoes, add parmesan, garlic powder, butter, salt and pepper. Mix thoroughly, then spread onto a lined baking tray, ensuring it's nice and even. Bake at 200°C for 30 minutes, or until crisp at the edges and evenly browned on top.
Cool slightly, then lay a clean sheet of greaseproof paper over the top along with a board you can flip easily.
Flip then peel off the bottom paper. On top of this lay cheese and your two meats. Ensure it is even, then carefully roll the log.
Cover loosely with foil then bake for 30 minutes at 180°C.
Slice and serve with your favourite breakfast condiments. Perhaps a little OJ and a hot cup of joe.
Watch the recipe video here: