Ice Cube Apple Pies
Apple pie nuggets are easy to make a fun to eat. Using ready-made pie crust and no cook apple filling makes this recipe really quick and easy. It's perfect for parties, game nights and dessert boards. Dip them in caramel or serve them in a big bowl of ice cream!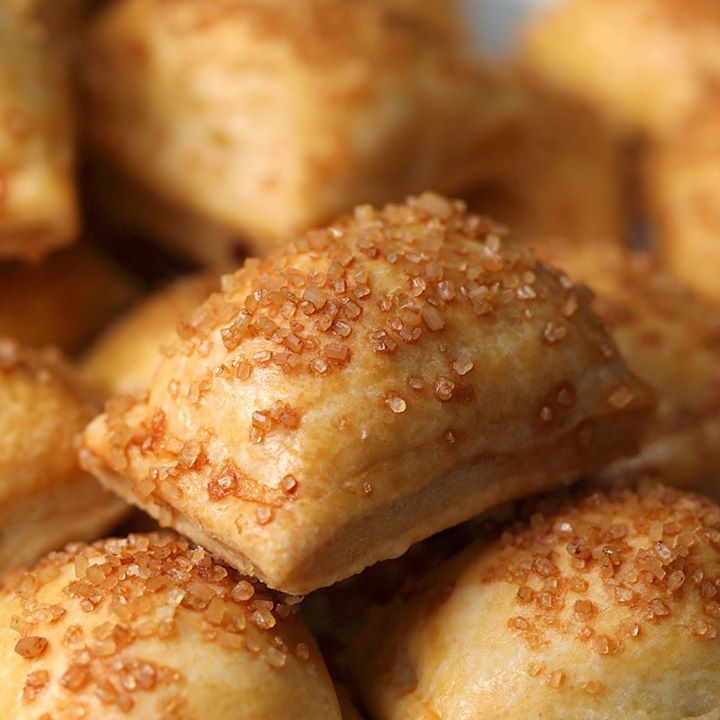 Ingredients
2 apples, peeled, cored and diced small
3 tbsp brown sugar
1 tsp cinnamon
1½ tsp corn starch
Ready made Pie Crust
1 egg wash
Demerara sugar
Instructions
Pre-heat oven to 200ºC (390ºF).
In a bowl, mix together apples, brown sugar, cinnamon and cornstarch
Place pre-rolled pie crust into an ice cube tray. Press into the center to create a small well. Place a ½ tsp of apple mixture into each well. Brush all edges with egg wash and top with another piece of rolled out pastry.
Using a rolling pin roll over the tray to seal the edges. Cut the excess pastry from around the edges and flip over onto a cutting board. Cut through the sealed edges to create individual cubes.
Brush each with egg wash and sprinkle with Demerara sugar. Bake for 25- 30 minutes until golden brown.
Serve as bites or on top of a bowl of ice cream with caramel sauce.
Enjoy!
Watch the recipe video here:
Ice Cube Apple Pies

Posted by Twisted on Tuesday, January 9, 2018