Popovers With Strawberry Compote
Enjoy these crisp, airy golden popovers even more with a sweet, delicious strawberry compote.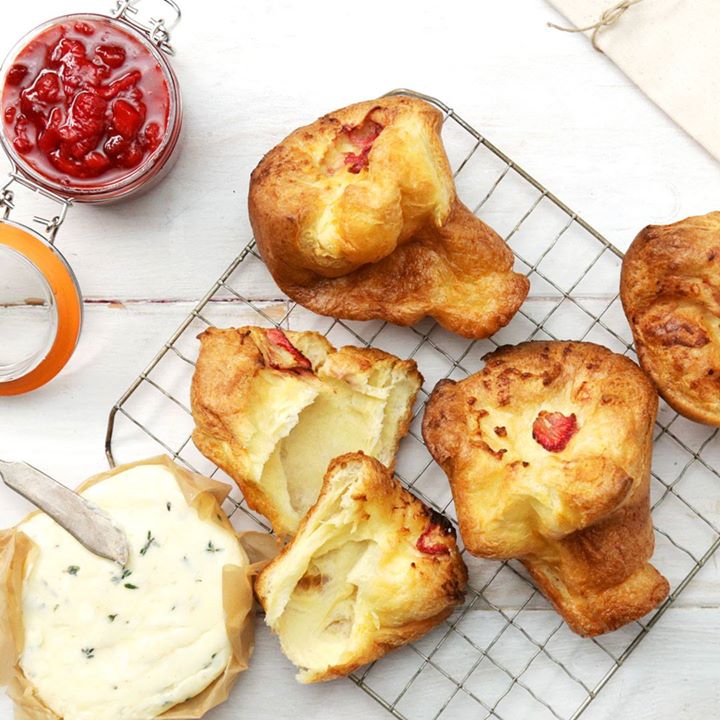 Ingredients
Popovers With Strawberry Compote
3 large eggs
1¼ cups whole milk
1¼ cups flour
¼ teaspoon fine sea salt
1 tablespoon unsalted butter, melted
1½ tablespoon unsalted butter, cut evenly into 6 pieces
Strawberry Compote
2 cups strawberries
2 tablespoons water
½ cup natural cane sugar
Thyme Butter
2 sticks butter, room temperature
1 teaspoon pink sea salt
2 teaspoons fresh picked thyme
Instructions
Popovers With Strawberry Compote
Preheat oven to 425°F. Butter the sides of a 6-cup popover pan* (or a 12-cup muffin tin).
In a large mixing bowl, whisk the eggs until they become pale yellow and voluminous. Whisk in the milk.
Gradually add the flour and salt and continue to whisk until the mixture is smooth and creamy. Whisk in the melted butter.
Preheat the popover pan in the oven for 2 minutes.
Place one piece of butter in each cup and return pan to oven for another minute. Butter should be melted and bubbly.
Divide the batter evenly among the cups and bake for 20 minutes.
Without opening the oven, lower the heat to 325°F, and bake for another 20 minutes. Popovers should be puffed and golden brown. (To avoid deflating the popovers, use the oven light rather than opening the oven door to check on popovers.)
Serve immediately with a smear of thyme butter and a spoonful of strawberry compote.
*If you don't have a popover pan, a muffin tin will also work but will yield smaller popovers.
Strawberry Compote
In a wide saucepan, combine the strawberries, water and sugar. Cook over low-medium heat until the sugar is dissolved and the strawberries begin to soften and break down, about 10 minutes, stirring occasionally.
Transfer to a storage jar and set aside to cool to room temperature. (Keeps for one week when stored in an airtight container in the refrigerator.)
Thyme Butter
Combine all ingredients. Store in airtight jar.
Watch the recipe video here: