Chicken Parmesan Bread Bowl
Chicken Parmesan Bread Bowl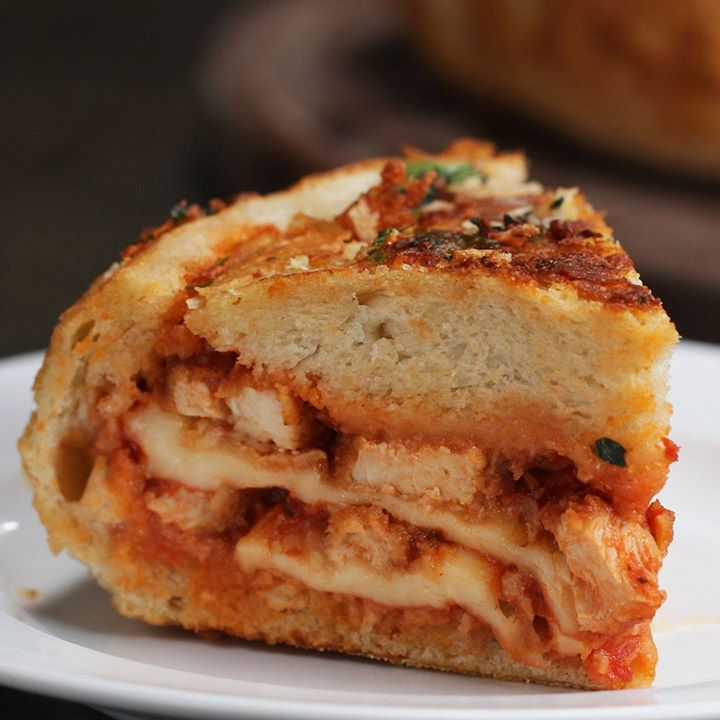 Ingredients
1 cup breadcrumb
½ teaspoon fresh parsley, chopped
½ teaspoon garlic powder
½ teaspoon onion powder
¼ teaspoon dried oregano
½ teaspoon salt
¼ teaspoon pepper
1 cup flour
3 eggs, beaten
2 boneless, skinless chicken breasts, thinly sliced
oil, for frying
1 bread bowl
1 cup marinara sauce
8 oz mozzarella cheese
½ cup shredded parmesan cheese
3 tablespoons butter, melted
3 cloves garlic, minced
1 tablespoon fresh parsley, chopped
1 tablespoon parmesan cheese, grated
fresh basil, for serving
Instructions
Preheat oven to 350°F (180˚C).
In a medium bowl, combine bread crumbs, parsley garlic powder, onion powder, oregano, salt, and pepper to bread crumbs.
Place flour and eggs in two other medium bowls.
Roll the chicken breast in the flour, dusting off any excess. Dip the chicken into the egg, then place into the breadcrumbs, coating it completely.
Heat the oil in a skillet over medium-high heat.
Once the oil begins to shimmer, fry the breaded chicken strips until both sides are golden brown.
Remove from heat and drain on a paper towel.
Slice the cooked chicken breast into ½-inch (1 cm) thick strips.
Slice the top of the bread bowl off and scoop out the insides. Save the top of the bowl.
Spoon and spread some of the marinara sauce on the bottom of the bowl, then layer on mozzarella, Parmesan cheese, chicken strips, marinara, remaining mozzarella, Parmesan, chicken strips, marinara, and remaining Parmesan.
Place the cap of the bread bowl on top.
Wrap the bread bowl in foil, then weigh it down with a heavy object for 30 minutes.
In a small bowl, mix together butter, garlic, parsley, and Parmesan cheese.
Remove the foil from the bread bowl and brush the garlic butter mixture evenly over it.
Bake for 30 minutes.
Cool for 10 minutes and slice.
Garnish with basil, if desired.
Enjoy!
Watch the recipe video here:
You need this chicken parmesan bread bowl in your life ASAP ?FULL RECIPE: https://tasty.co/recipe/chicken-parmesan-bread-bowl

Posted by Proper Tasty on Wednesday, January 24, 2018