Stromboli Bites
Savory, salty, spicy and cheesy: these little stromboli bites are perfect for any party. Fill store-bought pizza dough with Italian meats, pepperoncini, olives and cheese and then roll 'em up like tiny burritos.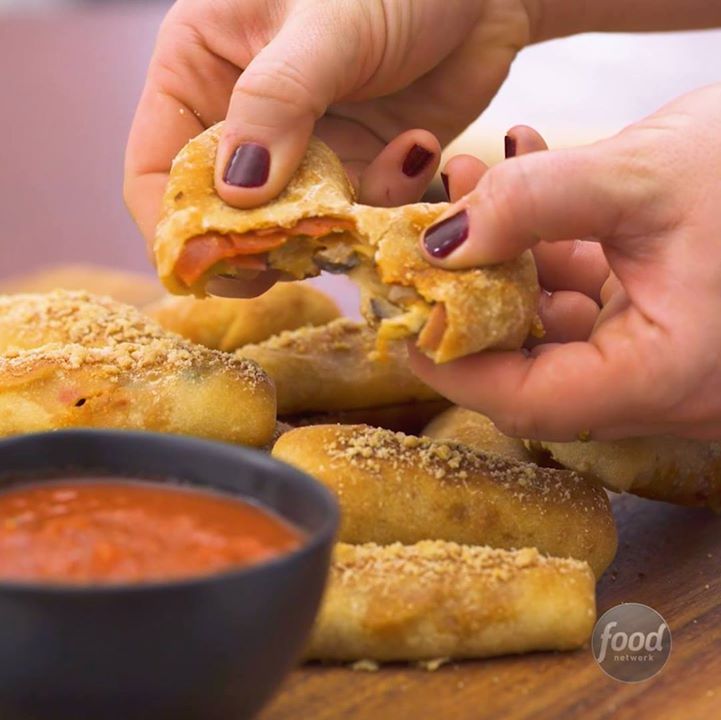 Ingredients
1 cup prepared marinara sauce
One 13.8-ounce tube store-bought pizza dough, such as Pillsbury
All-purpose flour, for dusting
2 ounces sliced pepperoni, halved
2 ounces sliced salami, cut into 1-inch pieces
⅓ cup sliced pepperoncini
⅓ cup sliced black olives
1 cup shredded mozzarella
¼ cup grated Parmesan
Instructions
Preheat the oven to 400 degrees F. Line a baking sheet with parchment. Reserve ⅔ cup of the marinara for dipping.
Lightly flour a work surface. Roll the pizza dough out to a 12-by-15-inch rectangle. Cut the rectangle into fifteen 3-by-4-inch rectangles. Spread 1 teaspoon of the remaining marinara over each little rectangle, leaving a 1-inch unsauced border.
Cover the sauce with 3 to 4 slices of pepperoni, and then 3 to 4 pieces of salami, neatly layering them. Top the meat with about 1 teaspoon each black olives and pepperoncini. Sprinkle 1 heaping tablespoon mozzarella on top of each.
Roll each rectangle up like a burrito: Fold a long edge of each rectangle snugly over the filling, tuck in the sides and roll up tightly. Pinch the seams to seal. Put the stromboli seam-side down on the prepared baking sheet. Sprinkle the tops with Parmesan. Bake until golden brown,15 to 20 minutes.
Meanwhile, microwave the reserved ⅔ cup marinara in a microwave-safe bowl until warm. Serve with the stromboli bites for dipping.
Watch the recipe video here:
Recipe of the Day: Stromboli Bites ??Save this recipe: http://bit.ly/2Fr6x3G.

Posted by Food Network on Friday, March 9, 2018