Sheet Pan French Toast
This is everything French toast should be - crunchy in some places, soft in others. Stuffed with chocolate and strawberries, served with ice cream, what could be more glorious? Making it massive.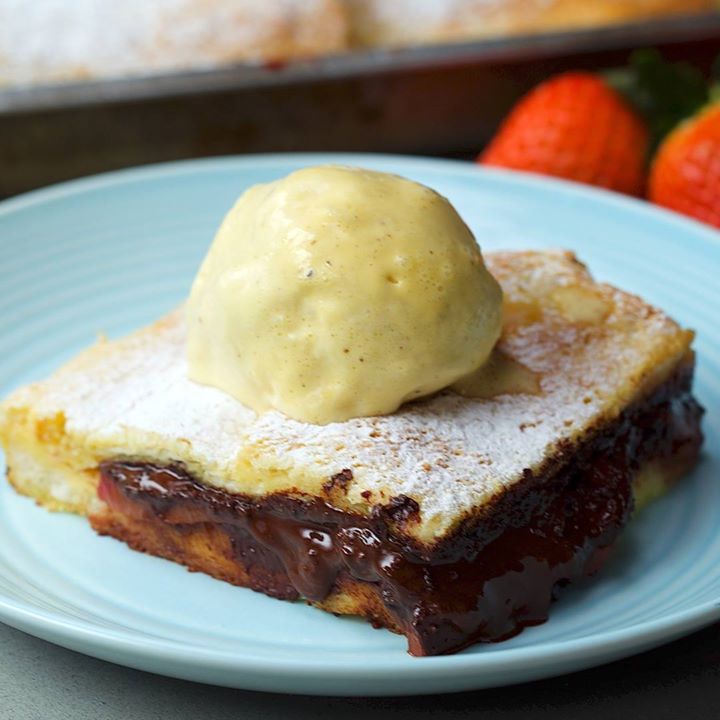 Ingredients
3 eggs
1 cup cream
½ cup milk
3 tbsp sugar
1 tsp vanilla essence
500g strawberries, chopped into slices
300g chocolate, chopped
Icing sugar
Instructions
Preheat the oven to 180°C/360°F.
Whisk the eggs with the cream, milk, eggs and vanilla.
Dip each slice of crustless bread in the mixture and lay overlapping on a lined baking sheet (you may need more or less bread depending on the size of the sheet).
Spread the strawberry slices over the top (leave a gap around and sprinkle the chopped chocolate on top of that). Place another overlapping layer of egg soaked bread on the top.
Bake for 20 -30 minutes until they bread has browned and is a bit crispy in places.
Sprinkle over some icing sugar.
Vanilla ice cream to serve.
Watch the recipe video here: