Sheet-pan Party Paninis
Sheet-pan Party Paninis recipe.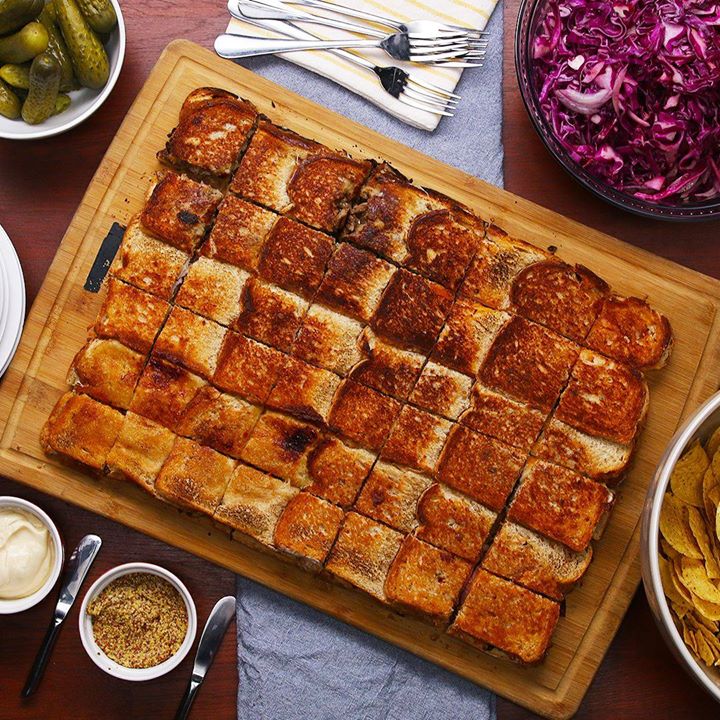 Ingredients
½ cup melted butter
24 slices bread, divided
4 slices cheddar cheese
4 slices ham
¼ cup shredded monterey jack cheese
6 slices bacon, cooked, divided
1 boneless, skinless chicken breast, grilled and sliced
2 tablespoons ranch dressing
¼ cup shredded cheddar cheese
6 slices roast beef
½ cup onion, sauteed, divided
6 slices provolone cheese
½ lb steak, grilled, sliced
¼ cup pepper, sauteed
¼ cup shredded mozzarella cheese
5 slices avocado
5 slices fresh mozzarella
2 tablespoons sundried tomato, chopped
3 slices tomato
2 tablespoons basil, chopped
4 slices turkey
Instructions
Preheat oven to 400°F (200°C).
Pour half of the melted butter onto a large sheet tray, brushing it across the entire surface.
Shingle 12 slices of the bread onto the sheet pan, making sure each slice overlaps and the bread reaches the edges.
Place any fillings you choose onto the bread. You can mix and match any flavor combos you prefer!
For the ham and cheese sandwich, place 2 slices of cheddar cheese on the bread, four slices of ham, and 2 more slices of cheddar cheese.
For the chicken-bacon-ranch sandwich, place the shredded Monterey Jack cheese, 3 bacon slices, grilled chicken slices, and ranch dressing on the bread.
For the roast beef and onion sandwich, sprinkle on the shredded cheddar cheese, sliced roast beef, and half of the sautéed onions.
For the cheesesteak sandwich, add the provolone cheese, grilled steak, sautéed onions, and sautéed peppers.
For the turkey-bacon-avocado sandwich, add the shredded mozzarella cheese, sliced turkey, 3 slices of bacon, and the avocado.
For the tomato basil mozzarella, add the sliced fresh mozzarella cheese, sun-dried tomato, 3 tomato slices, salt, pepper, and chopped basil.
After all your fillings are in place, shingle another 12 slices of bread on top of the fillings.
Brush the bread with the remaining melted butter.
Place a second sheet pan over all the sandwiches and press down. Place heavy objects that can withstand oven heat, such as heavy pots or pans, on top of the pan to press the sandwiches.
Bake the sheet pan for 20 minutes or until the fillings have warmed through.
Remove the heavy objects and the top sheet pan, and bake the pressed sandwiches for another 20 minutes or until the bread turns golden brown and crisps up.
Remove the sandwiches from the oven, carefully flip the tray onto a large cutting board, and slice squares of sandwiches.
Enjoy!
Watch the recipe video here:
Feed a crowd without making paninis one-by-one ? ?!Get the recipe: https://tasty.co/recipe/sheet-pan-party-paninis

Posted by Tasty on Saturday, February 10, 2018