Sausage Biscuits and Gravy
Often imitated, never duplicated. Just make sure that after you make this for breakfast, you have a window of opportunity to go back to bed, because you won't be able to do much after consuming this. Cast-iron skillet is preferred. I prefer the taste that the maple sausage lends to the dish, however you could easily substitute regular or sage sausage in lieu of the maple. Single ladies, sit back and wait for proposals of marriage!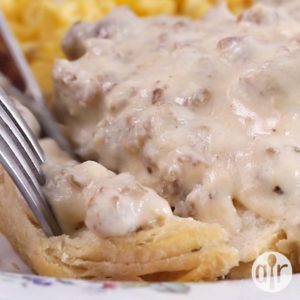 Ingredients
1 (19 ounce) can Southern-style flaky refrigerated biscuits (such as Pillsbury Grands®)
1 (16 ounce) package maple-flavored breakfast sausage
3 tablespoons all-purpose flour, or as needed
1 (12 ounce) can evaporated milk
1½ cups milk
½ teaspoon salt
¼ teaspoon ground black pepper
1 teaspoon butter
Instructions
Preheat oven to 350 degrees F (175 degrees C).
Arrange biscuits about 1½ inches apart on a baking sheet.
Bake in the preheated oven until golden brown, 13 to 17 minutes. Slice cooked biscuits in half crosswise and keep warm.
While biscuits are baking, crumble sausage into a large skillet over medium heat; cook, breaking meat apart, until no longer pink inside, about 10 minutes. Sprinkle sausage and pan drippings with flour and cook and stir until sausage is coated, about 1 more minute. Reduce heat to medium-low.
Pour evaporated milk into sausage mixture, followed by milk; stir until thoroughly combined. Bring to a simmer, stirring constantly, and cook until gravy is your desired thickness, 3 to 5 minutes. Season with salt and ground black pepper. Stir butter into gravy until melted. Stir in more flour if gravy isn't thick enough.
Place biscuits with cut sides up on serving plates; top with sausage gravy.
Watch the recipe video here: