Lemon Meringue Bombs
Light, pillowy meringue shells are filled with a lemon custard for a citrusy treat that's both stunning and sweet.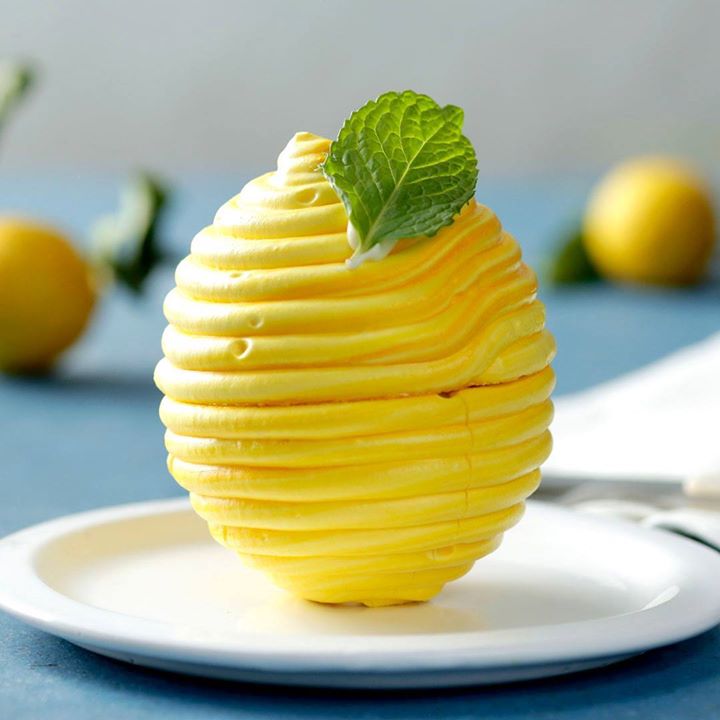 Ingredients
Lemon Meringue Bombs
Meringue shells
Lemon curd
Lemon Curd
4 medium eggs
Scant 1¼ cups sugar
Zest of 3 lemons
Scant 1 cup lemon juice
2⅔ sticks butter, at room temperature
Meringue Shells
3.2 ounces egg whites (from about 3 medium eggs)
½ cup granulated sugar
¾ cup plus 1 tablespoon powdered sugar
Yellow gel food coloring
Instructions
Lemon Meringue Bombs
Match the shells into pairs, and square off the bottom side of the bottom half of each pair with a paring knife, taking care not to puncture the meringue. Fill the insides of the shells with lemon cream, place a raspberry in each center and sprinkle in about 2 teaspoons of gingersnap cookies per meringue.
Place the bottom halves on a serving plate and top with the meringue pair. Spread the bottom backside of a mint leaf with lemon cream and attach to the top of the lemon meringues. Serve immediately.
Lemon Curd
In a medium-sized saucepan, whisk together eggs and sugar, then stir in lemon juice and zest. Place saucepan over a low flame, and constantly stir mixture until it thickens and coats the back of a spoon. Remove from heat and let mixture cool to just warm, then strain through a mesh sieve into a medium bowl. Gradually add in the butter one piece at a time, whisking until thoroughly combined. Store covered in the refrigerator at least 2 hours.
Meringue Shells
Preheat oven to 180 degrees, and place 2 6-cavity silicone dome molds on a baking tray bottom side up. Lightly spray domes with nonstick spray.
In the bowl of a stand mixer fitted with the whisk attachment, beat egg whites to soft peaks on medium speed, then slowly add in granulated sugar. Turn speed to high, and beat whites until stiff and glossy. Whisk in food coloring to reach a lemon yellow shade. Sift in the powdered sugar and fold to fully incorporate. Working in batches, transfer mixture to a pastry bag fitted with a 5 to 9 mm tip.
Starting at the bottom of the domes, pipe meringue in a consecutive spiral from the bottom to the top of the domes, taking care to have no holes in the shape. Make a peak at the top of the dome for the ends of the lemons. Place in the bottom rack of the oven to bake for 45 minutes. The meringue should not change color, but should be crispy on the outside and still slightly marshmallow-like on the inside. Let meringue cool 10 minutes in the oven, then remove and gently remove from mold.
Watch the recipe video here:
This dessert is the [lemon] ? .comFull Recipe: taste.md/2CiL09q

Posted by Tastemade on Sunday, December 31, 2017