Baileys Ice Cube Chocolate Truffles
BAILEYS ICE CUBE CHOCOLATE TRUFFLES recipe.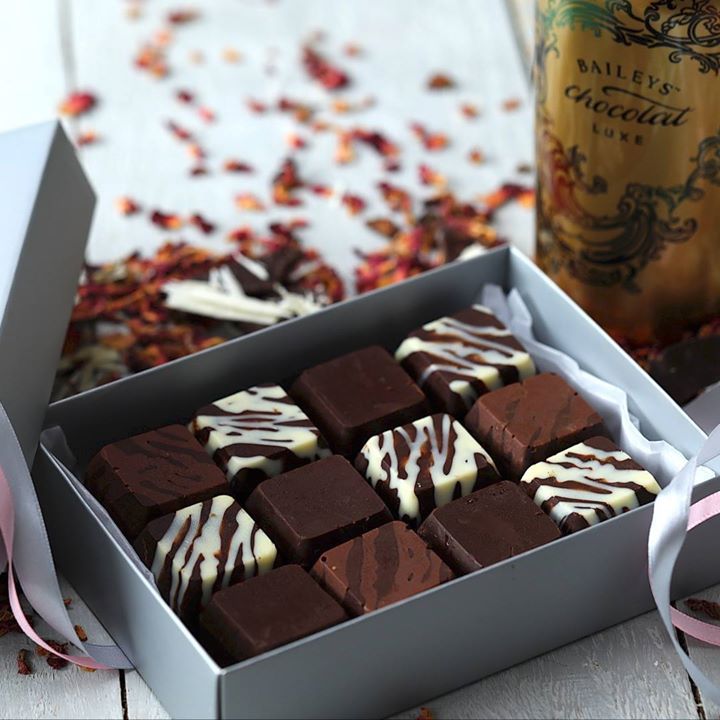 Ingredients
Ganache:
800g dark chocolate, finely chopped
200ml whipping cream
200ml Baileys Chocolat Luxe
Coating:
500g dark chocolate, finely chopped
2 tbsp coconutoil
Melted white chocolate
Melted milk chocolate
Raspberries
Toasted Hazelnuts
Instructions
Drizzle melted white chocolate across one ice cube tray being sure to get across all sides. Drizzle melted milk chocolate across a second tray similar to white chocolate. Set both aside to chill for 10 minutes.
In a microwavable jug, add 500g chocolate and coconut oil. Microwave on high for 2 minutes until completely melted. Pour into each of the 3 ice cube trays and tilt tray in all directions, allowing chocolate to cover the sides. Flip trays upside down to let excess chocolate drip out. Then refrigerate for 5 minutes.
In a large bowl, add 800g chocolate. Microwave 200ml cream and 200ml Baileys Chocolate Luxe together until steaming. Pour over chocolate and let sit for minute. Stir to combine until smooth.
In the ice cube tray with white chocolate drizzle, fill ⅓ with ganache. Then add half a raspberry to each. Fill with ganache, smooth over and then top with coating and smooth over. Repeat a second tray with on milk chocolate drizzle, and fill the same way with a hazelnut.
In the third plain tray, fill completely with ganache and seal with remaining coating. Chill all trays until set about 15-20 minutes.
Pop chocolates out carefully and trim excess chocolate if needed. Place in a chocolate box to gift or enjoy as is!
Watch the recipe video here: