Buffalo Chicken Biscuit Bombs
Bite into perfectly chewy garlic and parmesan coated buns packed with buffalo chicken and ranch amazingness.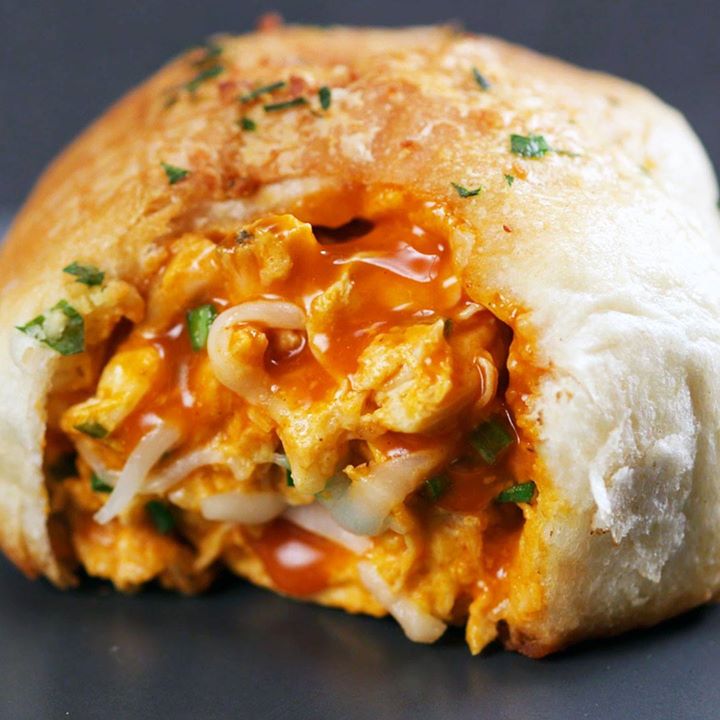 Ingredients
1½ cups cooked and shredded chicken
½ cup shredded mozzarella cheese
4 ounces cream cheese, softened
2 tablespoons ranch dressing
¼ cup buffalo wing sauce, plus more for drizzling
½ teaspoon salt
¼ teaspoon black pepper
2 tablespoons crumbled blue cheese
2 tablespoons chopped chives
2 (6-ounce) cans refrigerated biscuit dough
¼ cup unsalted butter, melted
2 tablespoons chopped Italian parsley
1 teaspoon grated garlic
1 tablespoon grated Parmesan
Instructions
Preheat oven 375 degrees, and grease a cast-iron skillet with butter.
In medium bowl, gently mix chicken, mozzarella cheese, cream cheese, ranch dressing, buffalo sauce, salt, pepper, blue cheese and chives until chicken is well coated. Set aside.
Using a rolling pin, roll each biscuit into a 4-inch round. Add 1½ tablespoons of the buffalo chicken filling and a drizzle of buffalo sauce.
Wrap the dough around filling and pinch to seal edges, forming a ball. Place seam side down into the greased skillet. Repeat with remaining dough and filling.
In a small bowl, whisk melted butter, parsley, garlic and Parmesan. Brush the balls with the garlic butter, and bake for 15 to 20 minutes, or until golden brown.
Watch the recipe video here:
Perfectly chewy garlic & parmesan coated buns packed with buffalo chicken & ranch amazingness. ?.com.Save this recipe: taste.md/2yZdDWUMore recipes on our app ?: taste.md/2xTvD7A

Posted by Tastemade on Thursday, October 5, 2017