Croquette Mozzarella Sticks
Croquette Mozzarella Sticks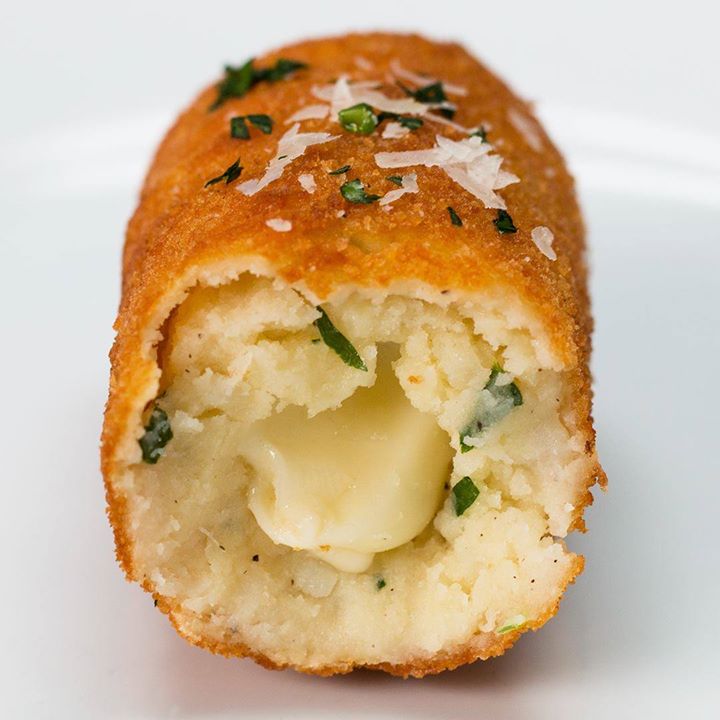 Ingredients
2 lb (910 g) russet potato, peeled and quartered
2 cloves garlic, minced
2 tablespoons fresh flat-leaf parsley, finely chopped
½ cup (55 g) grated parmesan cheese, plus more for garnish
4 large eggs, beaten, divided
salt, to taste
black pepper, to taste
12 sticks mozzarella cheese, halved crosswise
1 cup (125 g) all-purpose flour
1 cup (115 g) plain breadcrumbs
oil, for frying
marinara sauce, for serving
fresh parsley, chopped, for garnish
Instructions
Add the potatoes to a large pot with enough cold water to cover them. Bring to a boil over high heat and cook until tender when pierced with a fork, about 30 minutes.
Drain the potatoes and transfer to a large bowl. Use a potato masher to mash the potatoes until there are no large chunks left.
Add the garlic, parsley, Parmesan cheese, 1 beaten egg, salt, and pepper. Mix well.
Take a spoonful of potatoes and form into a patty.
Place a cheese stick in the middle and wrap the potato around the cheese until it is evenly covered.
Arrange the formed croquettes on a parchment-lined baking sheet and freeze for 30 minutes.
Place the flour, 3 remaining eggs, and bread crumbs in 3 separate shallow bowls. Dredge the croquettes in the flour, shaking off any excess; then dredge in the egg and the bread crumbs.
Heat the oil in a large pot until it reaches 350°F (180°C). Fry the croquettes for 3 minutes, or until golden brown.
Transfer the croquettes to a wire rack set over paper towels to drain the excess oil.
Let cool for a few minutes as they will be HOT.
Garnish with grated Parmesan cheese and parsley and serve with marinara sauce alongside.
Enjoy!
Watch the recipe video here:
Mozzarella sticks just got EVEN BETTER ?!FULL RECIPE: https://tasty.co/recipe/croquette-mozzarella-sticks

Posted by Tasty on Thursday, April 19, 2018