Pizza Burgers
It's like a burger and pizza had a beautiful baby.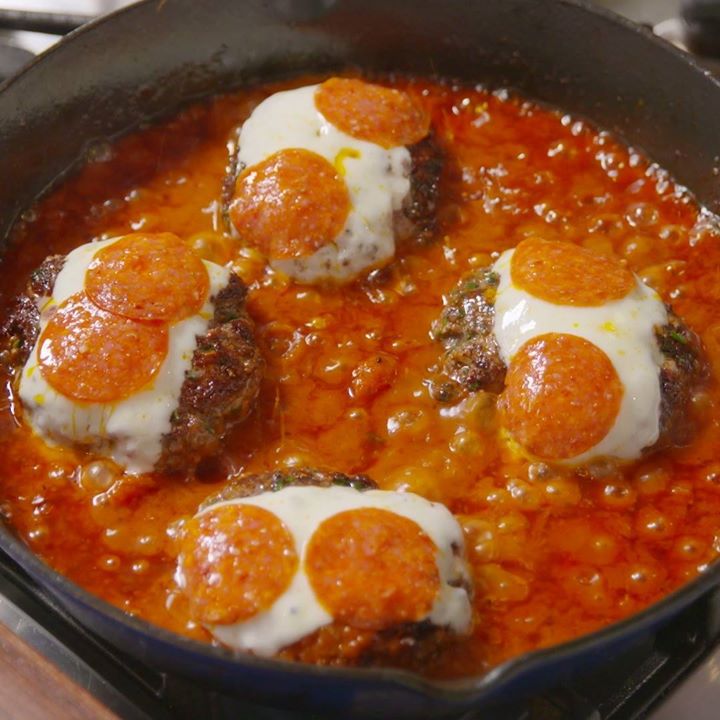 Ingredients
1 lb. ground beef
2 cloves garlic, chopped
¼ c. chopped parsley
kosher salt
Freshly ground black pepper
2 tbsp. vegetable oil
2 c. jarred marinara
4 slices mozzarella
8 pepperoni slices
4 Italian rolls (or hamburger buns)
2 tbsp. melted butter
2 tsp. garlic powder
1 tsp. Italian seasoning
¼ c. freshly grated Parmesan
Instructions
Preheat oven to 350°.
In a medium bowl, combine ground beef, garlic and parsley and mix with spatula until just combined. Using your hands, form 4 equally-sized patties; season both sides with salt and pepper.
Heat oil in a large skillet over medium-high heat. Add the burgers and cook, 4 to 5 minutes for medium. Flip patties, then immediately pour marinara around them in the pan. Simmer for another minute, then top each with cheese and 2 slices pepperoni. Cover pan and cook until the cheese melts and the burger is cooked to your liking, about 3 minutes more.
Meanwhile, make garlic buns. Brush melted butter on the inside of each half of the roll and sprinkle with garlic powder, Italian seasoning and Parmesan. Bake until golden, about 10 minutes.
Spread a dollop of marinara on each bottom bun followed by cooked burgers and the top bun halves.
Watch the recipe video here:
Pizza Burgers are so genius, you won't know how you've lived without them.Full recipe: http://dlsh.it/i3aT16Y

Posted by Delish on Thursday, February 15, 2018