Instant Pot One Pot Chili and Cornbread
This kind of depth of flavor usually takes hours on the stove.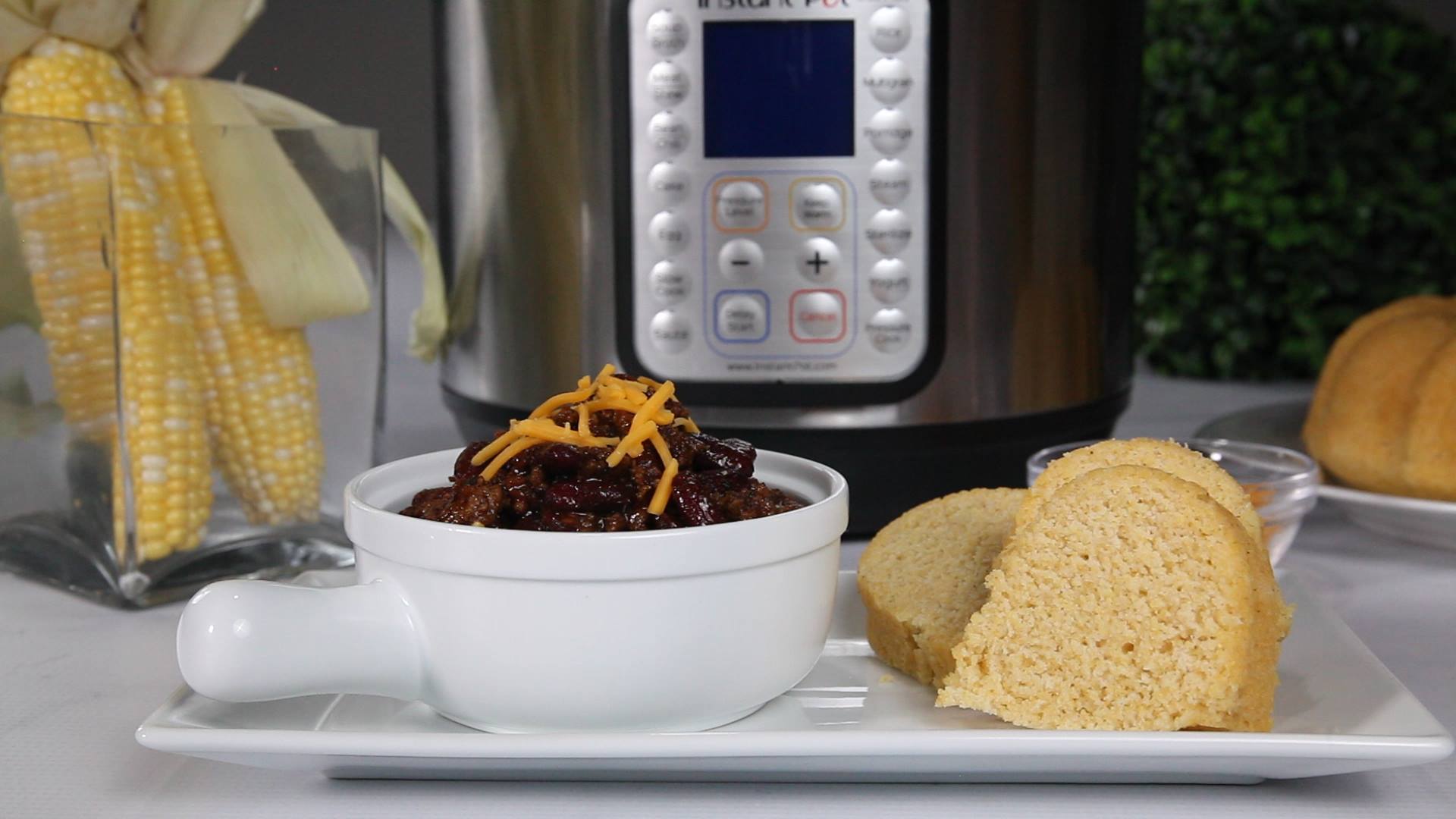 Ingredients
For Cornbread:
2 8.5-oz packages Jiffy Corn Muffin Mix (https://amzn.to/2QVV3rw)
⅔ cup milk
2 eggs
For Chili:
2 lbs ground beef (preferably 93% lean)
1 15-oz can kidney beans, drained and rinsed
1 14.5 oz can diced tomatoes, not drained
1 oz package chili seasoning (we love William's https://amzn.to/2zpnasx)
2 cups fresh spinach, chopped (optional)
Shredded cheese for serving (optional)
Instructions
In a large bowl, stir cornbread mix, eggs and milk until just combined. Batter will be lumpy.
Coat the inside of a 6-cup bundt pan with non-stick spray and spoon batter into pan. Set aside. (This is a great bundt pan for the Instant Pot: https://amzn.to/2MT2ZH2)
Using the display panel select the SAUTE function on the Instant Pot. Add ground beef and brown until no pink remains.
Add drained and rinsed beans, undrained tomatoes, and chili seasoning. Stir to combine.
Insert a tall steam rack or riser into the pot. (We like these: https://amzn.to/2Nwndvk)
Carefully lower the bundt pan onto the riser using a foil sling. The bottom of the pan should not be in contact with the chili mixture. Cover the cornbread loosely with foil–do not seal.
Turn the pot off by selecting CANCEL, then secure the lid, making sure the vent is closed.
Using the display panel select the MANUAL function*. Use the +/- keys and program the Instant Pot for 20 minutes.
When the time is up, let the pressure naturally release for 10 minutes, then quick-release the remaining pressure.
Carefully remove the cornbread from the pot using the foil sling and allow to rest for 5 minutes, then gently loosen with a small spatula and invert onto a serving plate.
Stir chopped fresh spinach into chili just before serving (optional).
Serve chili and cornbread hot. Garnish chili with cheese if desired.
Watch the recipe video here:
This kind of depth of flavor usually takes hours on the stove.RECIPE: http://chopsecrets.com/instant-pot-one-pot-chili-and-cornbread/

Posted by Chop Secrets on Tuesday, January 8, 2019