Tuna Melt Pickles
See ya later, bread.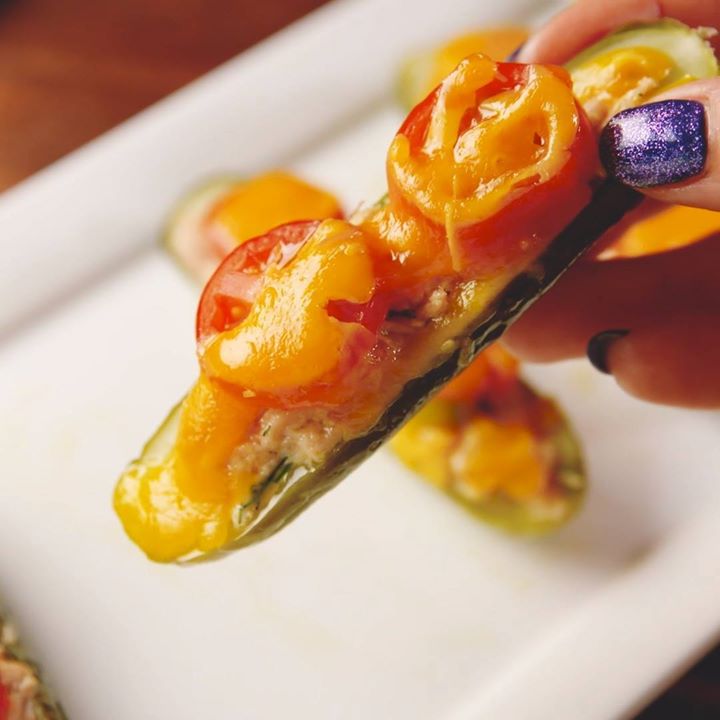 Ingredients
1 (6-oz.) can tuna, drained
2 tbsp. mayonnaise
2 tsp. Dijon mustard
1 stalks celery, finely chopped
Juice of ½ lemon
1 tbsp. chopped dill, plus more for garnish
kosher salt
Freshly ground black pepper
3 dill pickles
¼ c. grape tomatoes, sliced in rounds
½ c. shredded Cheddar cheese
Instructions
Preheat oven to 325°. In a large bowl, combine tuna, mayo, Dijon, celery, lemon juice, and dill. Mix until combined and season with salt and pepper.
Slice pickles in half lengthwise. Using a spoon, scoop out the seeds to create boats. Place pickles on a small baking sheet, fill with tuna salad and top with sliced tomatoes. Sprinkle all over with cheddar and place in the oven. Bake until cheese is melted, 8 to 10 minutes. Serve.
Watch the recipe video here:
We hate how much we love these stuffed pickles.Full recipe: http://dlsh.it/B5qEfUj

Posted by Delish on Sunday, January 7, 2018