Ham Egg & Cheese Roll-Ups
Ham Egg & Cheese Roll-Ups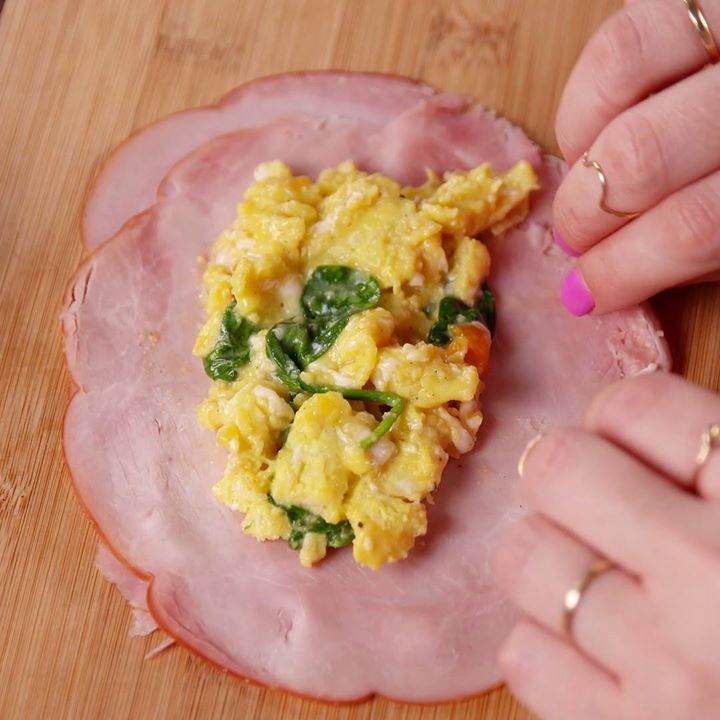 Ingredients
10 eggs
2 tsp. garlic powder
kosher salt
Freshly ground black pepper
2 tbsp. butter
1½ c. shredded Cheddar
1 c. baby spinach
1 c. chopped tomatoes
20 slices ham
Instructions
Heat broiler. In a large bowl, crack eggs. Whisk together with garlic powder and season with salt and pepper.
In a large nonstick skillet over medium heat, melt butter. Add eggs and scramble, stirring occasionally, 3 minutes. Stir in cheddar until melted, then stir in baby spinach and tomatoes until combined.
On a cutting board, place two slices of ham. Top with a big spoonful of scrambled eggs and roll up. Repeat with remaining ham and scrambled eggs.
Place roll-ups in a shallow baking dish and broil until ham is crispy, 5 minutes.
Watch the recipe video here: