Instant Pot Pho Chicken Noodle Soup
Flavorful, fragrant pho at home is now a reality!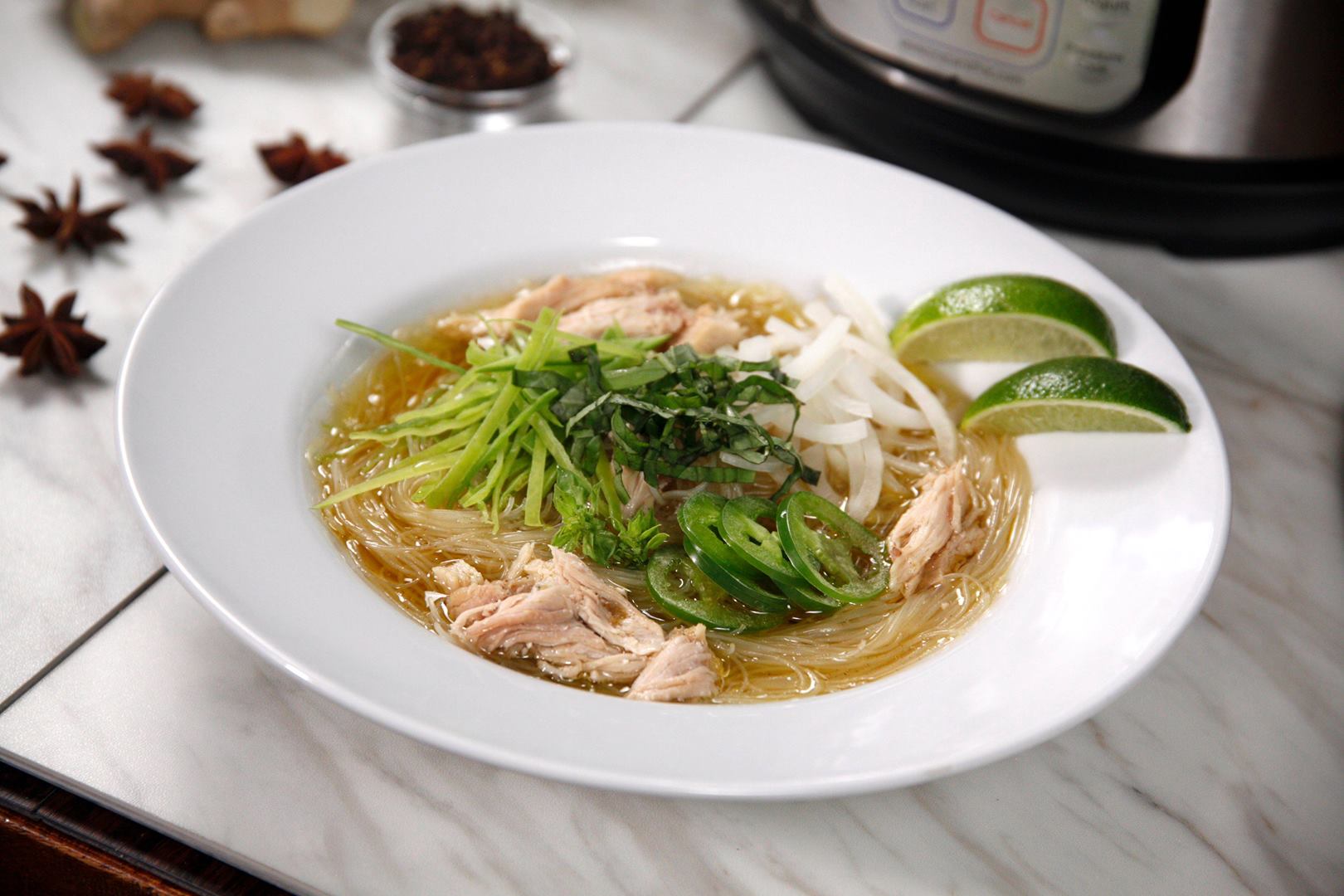 Ingredients
2 tbsp canola oil (or other high-heat oil)
2 medium onions, halved
Spice Mixture:
1 tbsp coriander seed
1 tsp green cardamom pods
3 star anise pods
1 cinnamon stick
5 whole cloves
Pot Mixture:
8 cups water, warmed
¼ cup fish sauce
1 tbsp kosher salt
1 inch ginger, peeled and roughly chopped (or 1 tbsp minced ginger)
1 lemongrass stalk, trimmed and cut into 2" pieces (or 1 tbsp lemongrass paste)
4 lbs bone-in, skin-on chicken thighs
2 8 oz packages thin rice noodles
For Garnish:
fresh cilantro
fresh basil
lime wedges
mung bean sprouts
2 jalapenos, thinly sliced
¼ onion, thinly sliced
Instructions
Add oil to the Instant Pot. Using the display panel select the SAUTE function and adjust to HIGH or MORE.
When oil gets hot, put the onion in, cut side down. Cook without moving until the onions begin to char, 4-5 minutes. Remove the onions to a bowl.
Add the Spice Mixture ingredients to the pot. Cook and stir for one minute or until spices are fragrant.
Add warmed water to the pot and deglaze by using a wooden spoon to scrape the brown bits from the bottom of the pot.
Add the remaining Pot Mixture ingredients and the reserved onions and their juices. Turn the pot off by selecting CANCEL, then secure the lid, making sure the vent is closed.
Using the display panel select the MANUAL function*. Use the +/- keys and program the Instant Pot for 20 minutes.
When the time is up, let the pressure naturally release for 10 minutes, then quick-release the remaining pressure.
Carefully remove the meat from the pot to a cutting board. Remove skin and shred meat; discard bones and skin.
Strain the broth and return to the pot. Turn the pot off by selecting CANCEL, then select the SAUTE function.
Bring the broth to a simmer and cook the rice noodles in the broth according to the package directions.
Serve noodles and broth over chicken. Garish as desired.
Watch the recipe video here: