Cheesy Potato Pancakes
Cheesy Potato Pancakes recipe.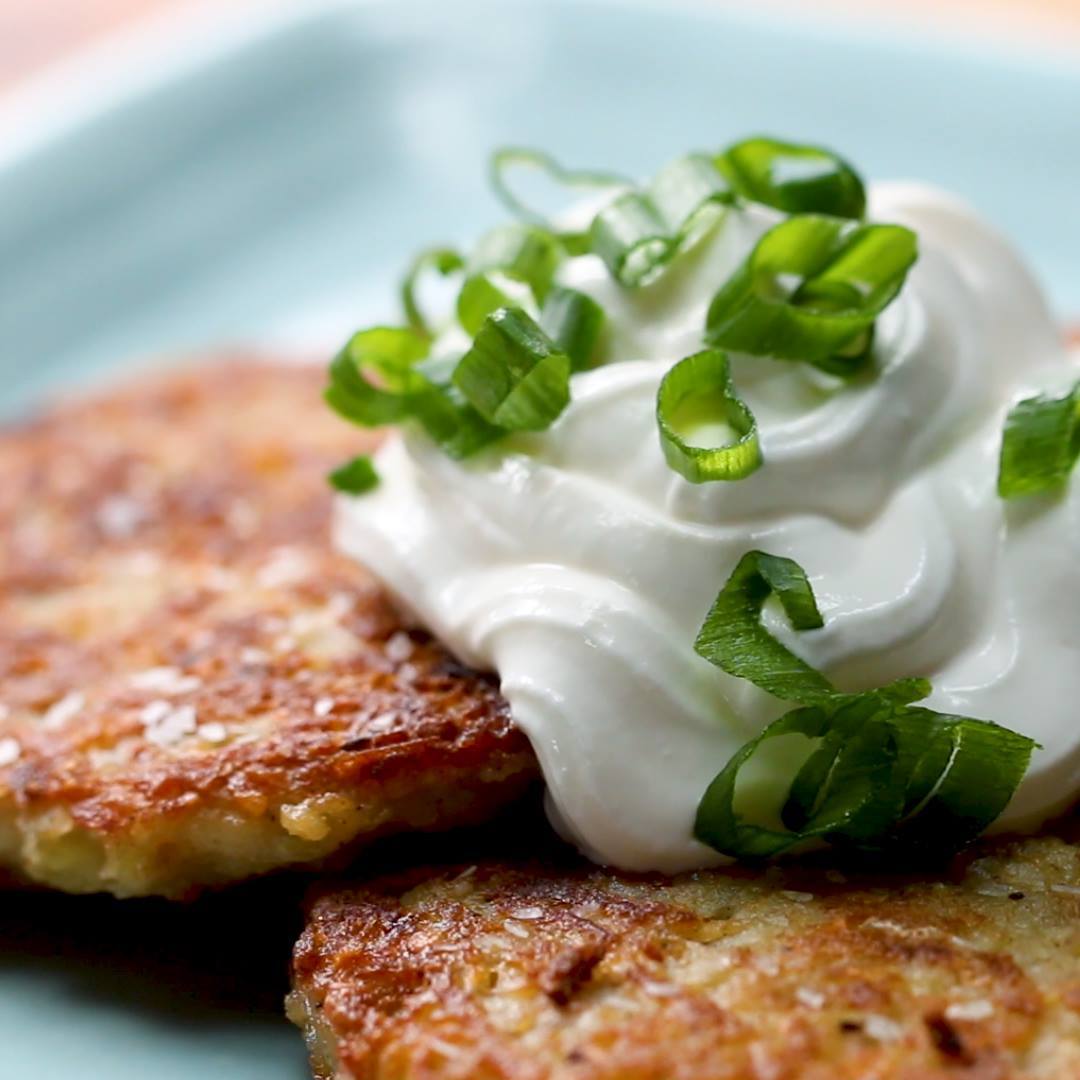 Ingredients
2 lb yukon gold potato, peeled (907 g)
½ yellow onion
3 eggs
2 tablespoons garlic, minced
1 tablespoon cornstarch
1 teaspoon salt
½ teaspoon pepper
½ cup cheddar cheese, grated (55 g)
½ cup monterey jack cheese, grated (55 g)
⅓ cup breadcrumb meal (30 g)
¼ cup olive oil, for frying (78 mL)
1 sour cream, to serve
1 green onion, chopped, to serve
Instructions
Using a box grater, shred the potatoes into a towel in a bowl and squeeze out as much liquid as possible.
Set aside and grate the onion.
Add the grated potatoes and grated onion onion to a large bowl. Add in the eggs, garlic, cornstarch, salt, pepper, cheddar cheese, monterey jack, and breadcrumbs and mix until combined.
Take ½ cup of the potato mixture and form into a thin patty, about ⅓-inch thick.
Heat cooking oil over medium-high heat and place potato patty into the skillet. Cook for 3-5 minutes on each side, or until golden brown and crispy on the outside. Repeat with remaining patties.
Serve with sour cream and green onions on top, and enjoy!
Enjoy!
Watch the recipe video here:
Omg…cheesy potato pancakes = everything ✨!FULL RECIPE: https://tasty.co/recipe/cheesy-potato-pancakes

Posted by Tasty on Thursday, September 20, 2018