Frank's Spicy Alabama Onion Beer Chili
Spicy beef, onion, and beer chili recipe I picked up while in Alabama. Many people have asked me for the recipe so I'm posting it here. Enjoy! Adjust the amount of jalapenos and other spicy things to suit your taste.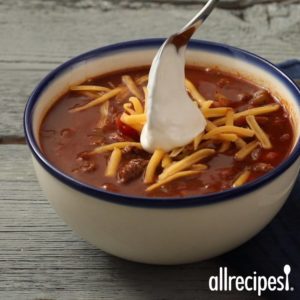 Ingredients
2 pounds ground beef chuck
2 large white onions, chopped
2 (14.5 ounce) cans diced tomatoes with juice
2 (15 ounce) cans tomato sauce
1 (12 fluid ounce) can beer
2 (15 ounce) cans spicy chili beans
¼ cup Worcestershire sauce
3 tablespoons hot pepper sauce (e.g. Tabasco™), or to taste
⅓ cup chili powder
4 fresh jalapeno peppers, seeded and chopped
3 tablespoons red pepper flakes, or to taste (optional)
Instructions
Crumble the ground chuck into a skillet over medium heat. Cook, stirring occasionally until evenly browned. Drain grease. Transfer the beef to a large soup pot. Add onions, diced tomatoes, tomato sauce, beer and chili beans. Season with Worcestershire sauce, hot pepper sauce, chili powder, jalapenos, and red pepper flakes, if using.
Cover the pot, and simmer over low heat for 2 hours. Turn off heat, and let cool, then refrigerate for two days. It gets much better with time. Heat and serve.
Watch the recipe video here: