Strawberry Coconut Cream Cake
This strawberry cake was absolutely to die for! And it was crazy easy! I seriously had no idea that something so simple could turn out as pretty as this did! The moist, flavorful strawberry cake goes so well with this coconut cream cheese frosting, you will melt after just one bite!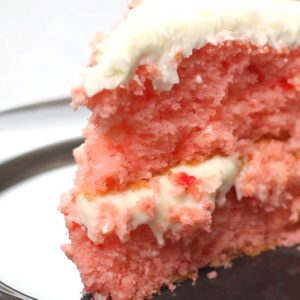 Ingredients
1 box Moist Supreme Strawberry Cake Mix
½ CUP Butter, softened
¾ CUP Heavy cream
½ CUP Water
3 Eggs
Coconut Cream Cheese Frosting
8oz Cream cheese, softened
½ CUP Butter
4 CUPS Powdered sugar
1 tsp Coconut extract
3-4 Tbsp Heavy cream
Instructions
Preheat oven to 350°F
Grease and flower the bottom and sides of two 9 inch round cake pans.
In a large bowl beat the strawberry cake mix, butter, coconut milk, water and eggs until incorporated.
Beat on high until smooth and pour into prepared pans.
Bake for 30-35 minutes or until toothpick inserted in the center comes out clean. Cool completely.
Cream Cheese Frosting:
Beat together cream cheese and butter.
Add in powdered sugar and beat until creamy.
Add the coconut extract and heavy cream and beat until smooth and can easily frost the cake.
Top with as much coconut as desired.
Enjoy!
Watch the recipe video here: