Strawberry Rose Crepe Cake
Strawberry Rose Crepe Cake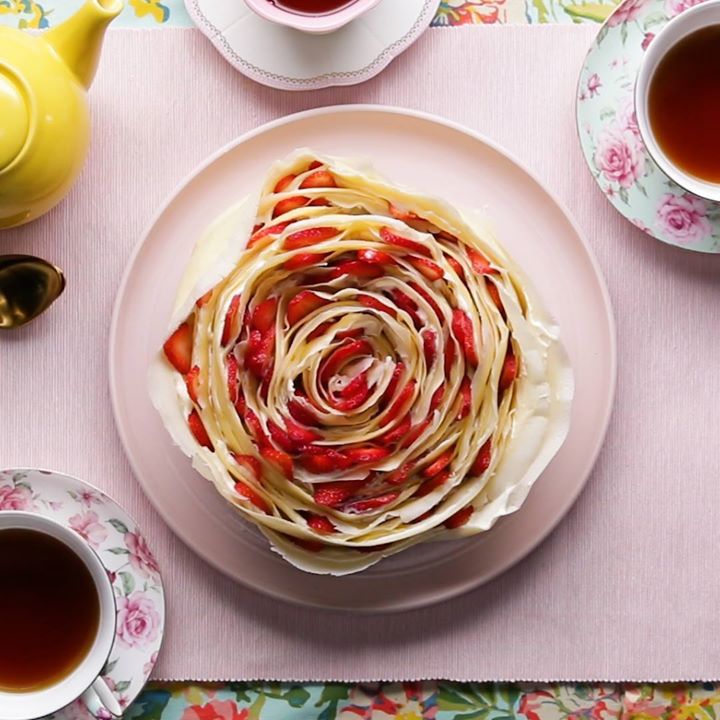 Ingredients
2 cups (250 g) all-purpose flour
¼ cup (60 g) unsalted butter, ½ stick, melted
3 tablespoons granulated sugar
3 large eggs
3 cups (720 mL) whole milk
FILLING
8 oz (225 g) cream cheese
3 tablespoons sugar
⅓ cup (80 mL) heavy cream
1 cup (150 g) strawberry, thinly sliced
Instructions
In a large bowl, combine the flour, butter, sugar, and eggs.
Add ½ cup (120 ml) of milk at a time, stirring vigorously, making sure that each addition is completely incorporated into the batter and that the batter is smooth before adding more milk.
Strain the batter through a fine mesh sieve. The batter should be very liquidy and have no lumps. Rest in the fridge for at least 30 minutes or up to overnight.
Make the filling: In a medium bowl, combine the cream cheese and sugar. Using a hand mixer, beat until combined. Add the heavy cream and mix until smooth. Set aside.
In a 9.5 inch (24-cm) nonstick pan over medium heat, pour ⅓ cup (40 g) of the batter in the center, and swirl the batter around to the edges of the pan.
Cook the crepe until bubbles rise to the surface and the bottom is golden brown, about 3 minutes. Flip and cook on the other side until the edges start to crisp slightly, about 1 minute more.
Transfer the crepe to a wire rack to cool. Repeat with the remaining batter.
Stack the crepes on top of each other, then cut in half. Stack the halves on top of each other, and cut the stack into two even strips.
Place two crepe strips on a flat surface and spread the cream cheese mixture on both. Arrange sliced strawberries on one of the strips.
Roll up the first strip with the strawberries, then roll the second strip around it. Repeat with the rest of the strips of crepes, alternating between strips with strawberries and strips without. Once it becomes too large to roll, lay the cake on a serving platter.
Spread the remaining crepe strips with cream cheese and gently press them around the outside of the cake. Refrigerate for 15-30 minutes to set.
Enjoy!
Watch the recipe video here:
This strawberry rose crepe cake is so beautiful ?!FULL RECIPE: https://tasty.co/recipe/strawberry-rose-crepe-cakeShop our BRAND NEW kitchenware collection here: http://bit.ly/2EgRuVx – We may make some $$ if you buy!

Posted by Tasty on Wednesday, April 4, 2018