ELMLEA BILLIONAIRE CHRISTMAS TRIFLE
Making something sweet, simple and spectacular for Christmas has never been so straightforward. Layers of chocolate custard, crumbly shortbread and sticky melted caramel make this Elmlea trifle an epic, indulgent way to end any meal. If you ever needed an excuse to save room for dessert, this dish is definitely it.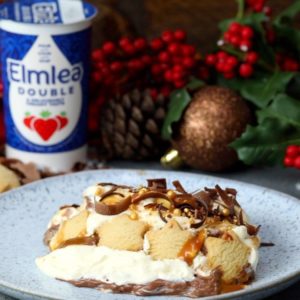 Ingredients
Chocolate Custard:
500ml ready-made custard
50g milk chocolate, chopped finely
50g dark chocolate, chopped finely
Cream
500ml Elmlea Double
2 tbsp icing sugar
500g Star Shortbread Biscuits
Garnish
Shaved dark and milk chocolate
Gold sprinkles
Instructions
In a pot, heat custard and when warm, stir through the chocolate until melted and a chocolate custard is formed, remove from heat. Cover the surface with cling film to prevent a skin and let cool completely.
Place the Elmlea Double and icing sugar in a large bowl. Whisk to form stiff peaks.
In another pot, add the caramels and Elmlea Double over medium heat. Stir until melted and combined, set aside.
To assemble, arrange a layer of shortbread biscuits in the bottom of a trifle dish, followed by caramel sauce, chocolate custard and a layer of whipped cream. Arrange star shortbread around the sides of the trifle dish and flat in the middle as well.
Repeat with caramel, chocolate custard, whipped cream, and biscuits. Create a second ring of stars along the edge and repeat again finishing with a heaped layer of whipped cream
Top with chocolate shavings (optional) and gold sprinkles (optional).
Chill for one hour and then serve!
Watch the recipe video here: