Chocolate Stuffed French Toast Muffins
Another take on stuffed french toast. These are easy to take on the go with you and can be filled with a number different treats. The two pieces of French toast adhere through cooking and become a fun stuffed muffin!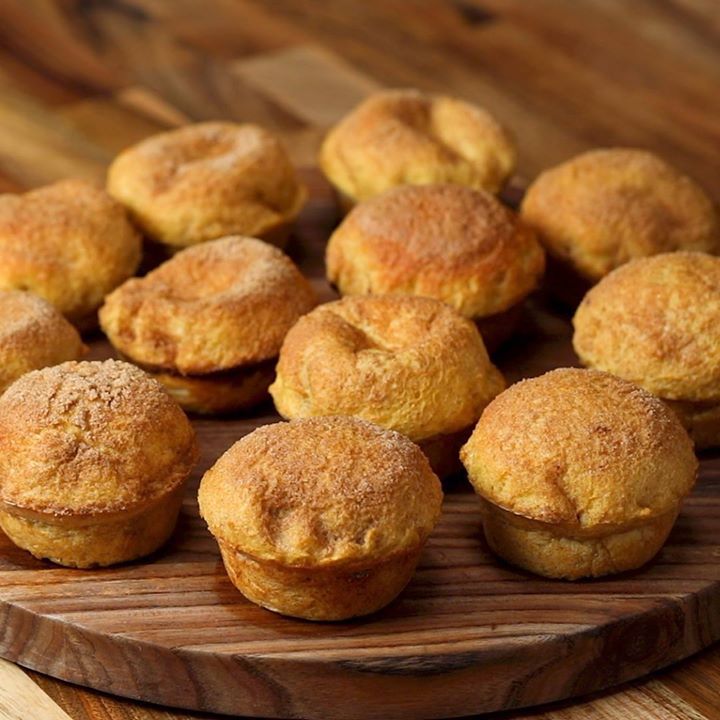 Ingredients
24 slices soft white bread
4 eggs
2 tbsp milk
1½ tsp cinnamon
½ cup plus 1 tbsp sugar
½ tsp vanilla essence
2 cups chocolate hazelnut spread
Instructions
Pre-heat oven to 180ºC (350ºF) and grease a 12 whole cupcake tin, set aside.
Using a 4" round cookie cutter, cut out the centre of each piece of white bread, keeping the crusts for breadcrumbs.
In a bowl whisk together eggs, milk, ½ tsp cinnamon and 1 tbsp sugar until smooth. Dip a round of bread in the egg and then press into the centre of a cupcake cavity. Repeat with remaining rounds.
Fill each with a heaping tablespoon of chocolate hazelnut spread. Cover with another egg dipped round and gently press the edges to adhere and press into the sides of the tin.
Mix together remaining sugar and cinnamon, sprinkle generously over top of each and bake for 20-25 minutes until cooked and golden brown.
Enjoy!
Watch the recipe video here: