RumChata Cupcakes
Boozy cupcakes are way better than non-boozy cupcakes.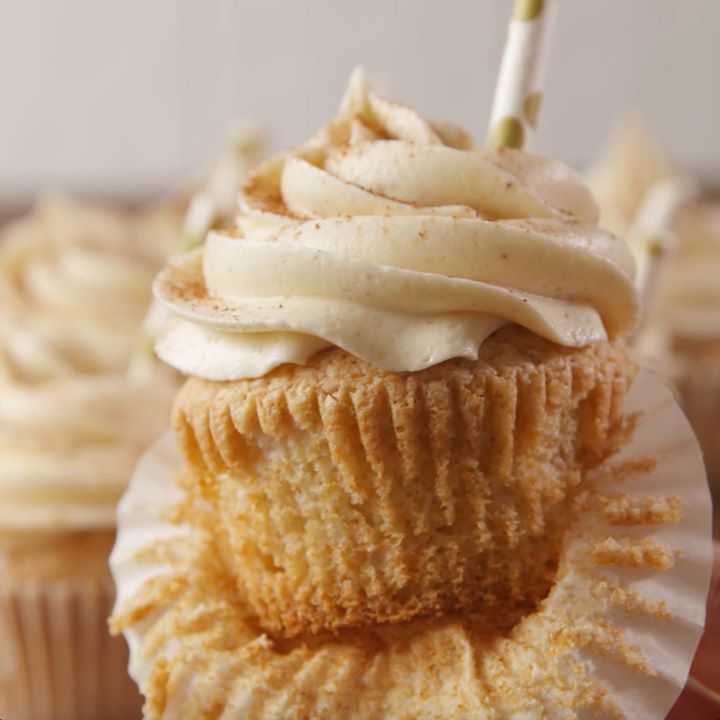 Ingredients
1 box vanilla cake mix
½ c. vegetable oil
3 eggs
1⅓ c. Rumchata, divided
1 c. (2 sticks) butter, softened
4 c. powdered sugar, divided
1 tsp. pure vanilla extract
¼ tsp. cinnamon, plus more for garnish
kosher salt
Instructions
Preheat oven to 350° and line 2 muffin tins with 16 cupcake liners. In a large bowl, mix together cake mix, vegetable oil, eggs, and 1 cup Rumchata until smooth. Bake until a toothpick comes out with minimal crumbs, about 25 minutes. Let cool completely before frosting.
Make Rumchata frosting: In a large bowl, combine butter, 2 cups powdered sugar, vanilla, cinnamon, salt, and remaining ⅓ cup Rumchata. Using a hand mixer, beat until smooth. Add the remaining 2 cups powdered sugar and beat until light and fluffy.
Pipe frosting onto cooled cupcakes and garnish with more cinnamon and a decorative straw.
Watch the recipe video here:
RumChata fans, how many of these cupcakes are you throwing back?!Full recipe: http://dlsh.it/XQb2mHG

Posted by Delish on Friday, March 23, 2018