Bavarian Cream Dragon Fruit Cake
A creamy, jiggly and surprisingly light Bavarian cream cake made with dragon fruit.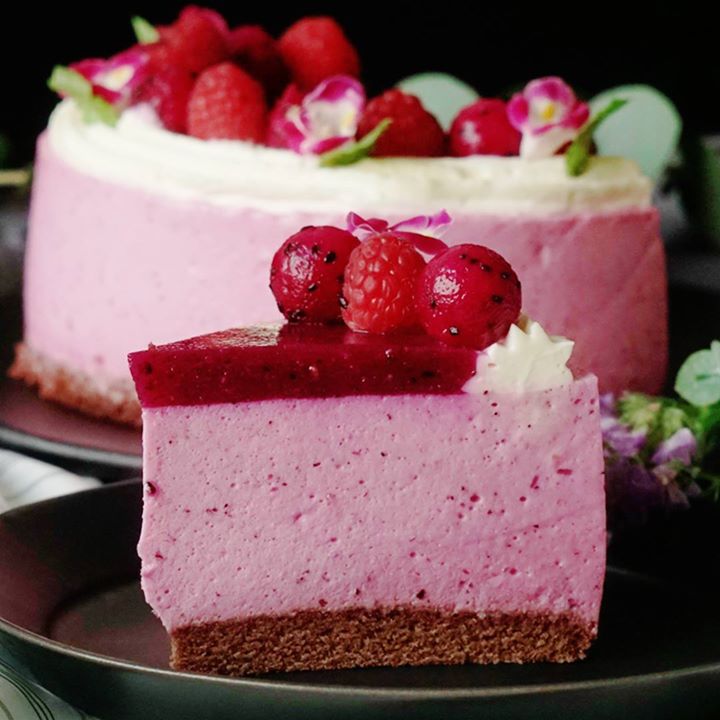 Ingredients
1½ tablespoons powdered gelatin
4 tablespoons water
Chocolate sponge cake
1 cup heavy cream
1 dragonfruit, quartered
½ cup raspberries
6½ tablespoons granulated sugar, divided
1 tablespoon lemon juice
¾ cup milk
1 egg yolk
2½ tablespoons granulated sugar
¾ tablespoon gelatin powder (soaked in 2 tablespoons water)
Decorations:
Whipped cream
¼ dragonfruit
Edible flowers
Raspberries
Mint leaves
Instructions
In a small bowl, combine the powdered gelatin and water. Set aside to let bloom.
Cut the sponge cake into a circle and place in the bottom of a springform pan.
Whip the heavy cream for 7 minutes until it reaches stiff peaks.
In a blender, add three quarters of the dragonfruit, the raspberries, 4 tablespoons of the sugar and lemon juice. Blend until combined, then transfer to a small saucepan over medium heat. Cook until just before boiling, then remove from heat and stir in half the gelatin.
Pour about a cup of the mixture into a separate bowl, leaving the rest in the saucepan. To the bowl add the remaining gelatin and stir to combine. Allow mixture to cool, then add milk, egg yolk and remaining sugar and whisk until thickened. Fold in the whipped cream, then pour mixture into the cake mold. Place in the fridge to cool for up to 3 hours.
Remove from fridge and pipe additional whipped cream around the edges to decorate. Pour remaining mixture from the saucepan over the top of the cake. Return to refrigerator to firm up. Once firm, remove from springform pan and garnish with fruit and mint leaves.
Watch the recipe video here: