Raspberry Chocolate Greek Yogurt Cheesecake
https://www.facebook.com/491452930867938/posts/2762993913713817/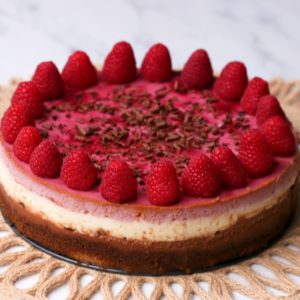 Ingredients
5 tablespoons melted coconut oil, plus 4 teaspoons, divided, plus more for greasing
5 oz graham cracker (150 g)
1 pinch kosher salt
12 oz frozen raspberry, thawed (330 g)
¾ cup dark chocolate chip (235 g)
2 teaspoons coconut oil, solid
32 oz greek yogurt (980 g)
3 large eggs
2 teaspoons vanilla extract
½ cup organic sugar (100 g)
2 tablespoons cornstarch, sifted
warm water, for baking
6 oz fresh raspberries, for garnish (150 g)
chocolate shaving, for garnish
Instructions
Preheat the oven to 350˚F (180˚C). Grease an 8-inch (20 cm) springform pan with melted coconut oil.
Add the graham crackers and salt to food processor and process until completely broken down with a sand-like texture.
Transfer the graham cracker crumbs to a medium bowl and add 5 tablespoons melted coconut oil. Stir to combine. The mixture should hold together when pressed between 2 fingers.
Using the bottom of a drinking glass, press the crust into the bottom of the prepared springform pan. Bake for 10 minutes, until golden brown. Remove from the oven and let cool. Leave the oven on.
Add the thawed frozen raspberries to a food processor and blend for 15 seconds, until smooth. Strain the raspberry puree through a fine-mesh sieve into a medium bowl and discard the seeds. Transfer ⅓ cup (40 grams) to a squeeze bottle to use for garnish and set the bottle and bowl aside.
In a medium microwave-safe bowl, combine the chocolate and solid coconut oil. Microwave in 30-second intervals, stirring in between, until completely melted and smooth. Set aside.
In a clean food processor, combine the yogurt, eggs, vanilla, sugar, and cornstarch. Process until smooth, about 20 seconds.
Add 1½ cups (365 grams) of the yogurt mixture to a medium bowl. Add another 1½ cups (365 grams ) to the bowl with the melted chocolate and the remaining 1½ cups (365 grams) to the bowl with the raspberry puree. Add 2 teaspoons of melted coconut oil to the bowl with the plain yogurt mixture and the remaining 2 teaspoons melted coconut oil to the bowl with the raspberry puree. Stir each bowl to combine.
To assemble the cheesecake, pour the chocolate layer over the graham cracker crust and smooth the top with a spatula. Freeze for 10 minutes.
Pour the vanilla layer over the chocolate layer and smooth the top with a spatula. Freeze for another 10 minutes.
Pour the raspberry layer on top of the vanilla layer and smooth with a spatula. Squeeze a few dots of the reserved raspberry puree on top and use a toothpick to swirl the puree in a decorative pattern.
Wrap the bottom of the pan tightly with foil and place in a high-walled baking dish. Pour about 1 inch (2 ½ centimeters) of warm water into the baking dish.
Bake the cheesecake for 35 minutes, until the edges are set but the center still jiggles slightly. If the top begins to brown, lightly cover with foil for the remaining bake time. Remove from the oven and carefully remove the springform pan from the water bath.
Cool the cheesecake completely in the refrigerator for 3-4 hours, or overnight.
When ready to serve, release the springform. Top the cheesecake with fresh raspberries, chocolate shavings, and raspberry puree.
Enjoy!
Watch the recipe video here: