Easy Candy Cane Cookie Platter
Easy Candy Cane Cookie Platter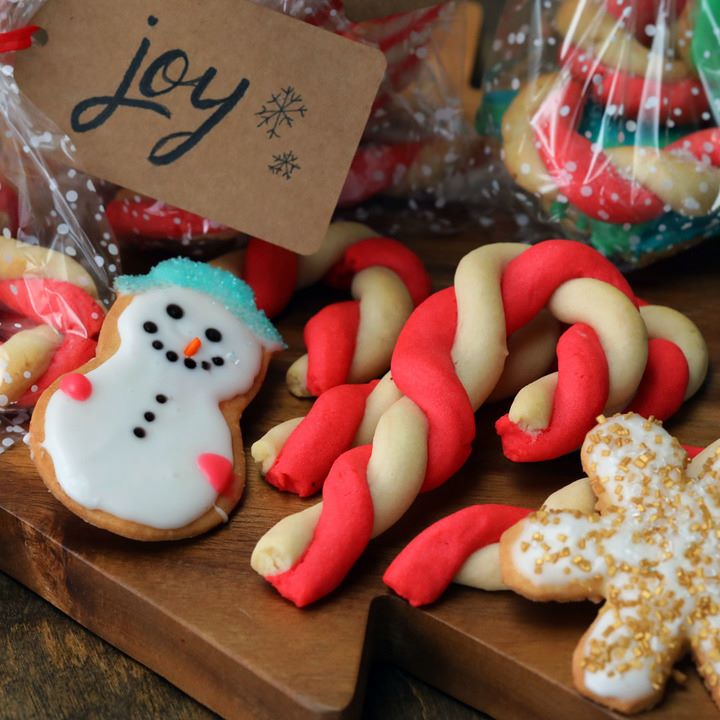 Ingredients
2 cups unsalted butter, softened to room temperature
2 cups powdered sugar
2 large eggs
2 teaspoons vanilla extract
2 teaspoons peppermint extract
6 cups all-purpose flour
1 teaspoon salt
¾-1 teaspoon red food coloring
Crushed peppermint candies for decorating
Frosting for decorating
Instructions
Cream softened butter and sugar in a mixing bowl in a stand mixer or with a hand mixer until an icing like consistency forms. Mix in the eggs and vanilla.
On a low speed mix in flour and salt until just incorporated, making sure not to overwork the dough.
Take out about two thirds of the dough, reserve.
Place the remaining dough remaining in the mixer and add peppermint and red food coloring (until desired color is reached) and mix just until combined.
Wrap each of the doughs in plastic and chill for at least 1 hour.
When ready to bake the cookies, preheat the oven to 375°F/190˚C and take out dough.
Take the uncolored dough and roll it out to about ¼-½ inch thick.
Use cut outs to make cookies, place on a baking sheet with parchment.
Re-ball the leftover dough from cut outs and take off about 2 tablespoons worth of dough from the both the uncolored and red doughs.
Roll each into a rope about 4 inches long. Pinch the two ropes together at the top and gently twist them together.
Place the twisted cookies on the baking sheet and gently hook the twist to create a candy cane shape.
Repeat with the remaining dough.
Bake all cookies for 10 to 12 minutes, until the edges of the cookies are just barely starting to turn golden.
When finished garnish candy cane twists with crushed candy canes.
When cookies are cooled, decorate with frosting.
Enjoy now or give as gifts to friends!
Watch the recipe video here:
Give the gift of festive treats, get the joy of family fun with this adorable cookie recipe! Earn Kohl's Cash as you shop for gifts like this Kitchen Aid Mixer at Kohl's here: http://bit.ly/2zD85Ve

Posted by Tasty on Monday, November 27, 2017