Homemade Gumdrops
Don't blame us if you eat an entire batch of Homemade Gum Drops in one sitting! ??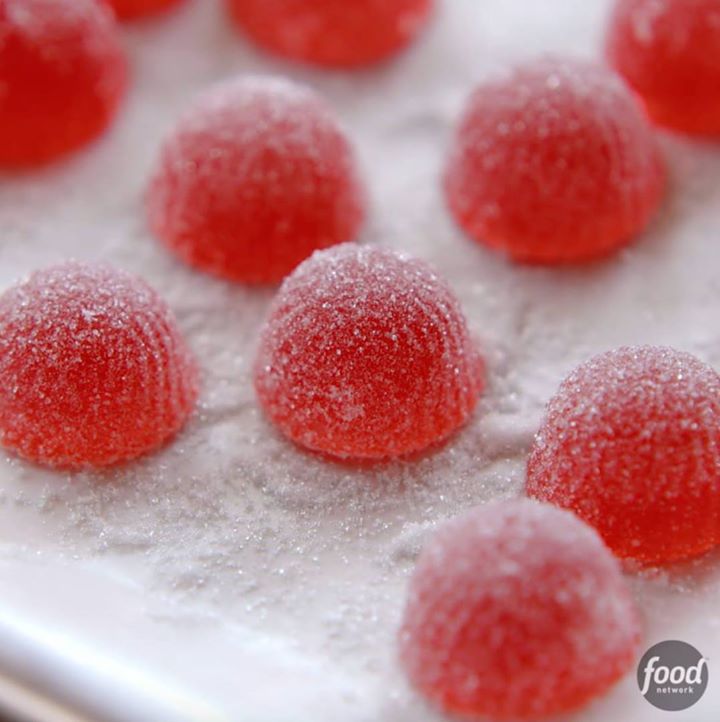 Ingredients
Nonstick cooking spray, for spraying the molds
Two ¼-ounce envelopes unflavored gelatin
½ cup granulated white sugar, plus more for coating
One 3-ounce package cherry-flavored gelatin
Granulated red sugar, for coating Coarse white sugar, for coating
Instructions
Special equipment: a 15-count silicone gumdrop or chocolate candy mold
Spray a 15-count silicone gumdrop or chocolate candy mold with cooking spray.
Sprinkle the unflavored gelatin over ½ cup water to soften; set aside.
Put the granulated white sugar and ½ cup water in a saucepan and bring to a boil, stirring to dissolve the sugar. Add the cherry-flavored gelatin to the pan, followed by the softened unflavored gelatin. Stir and remove from the heat. Continue stirring until the gelatins are dissolved, 1 to 2 minutes. Strain into a measuring cup and let cool for 5 minutes; it will be warm but not yet set.
Pour the liquid into the prepared mold. Refrigerate for at least 4 hours or overnight.
Remove the gumdrops from the mold and place onto wax paper. Let them sit out for an hour to come to room temperature. Coat some in granulated red sugar, some in granulated white sugar and some in coarse white sugar; return to the wax paper. Let sit overnight to dry out and set.
Watch the recipe video here:
https://www.facebook.com/FoodNetwork/videos/10155394069041727/