Silkiest Chocolate Tart
This beautiful chocolate tart is the silkiest thing you'll eat all summer ?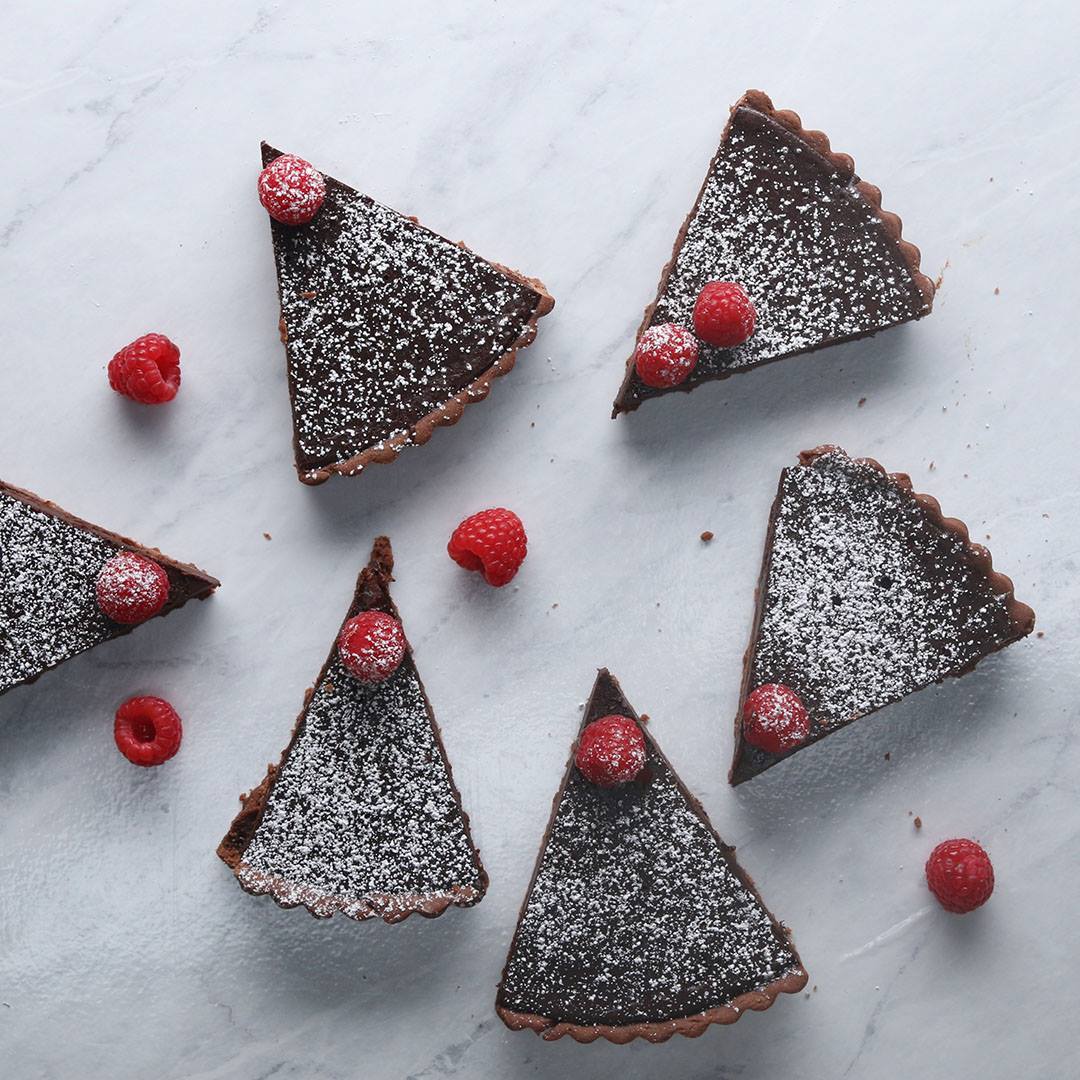 Ingredients
TART DOUGH
½ cup unsalted butter, 1 stick, softened (115 g)
½ cup powdered sugar (80 g)
1 large egg, room temperature
1 ½ cups all-purpose flour (185 g)
2 tablespoons cocoa powder
¼ teaspoon salt
FILLING
⅓ cup water (80 g)
½ cup butter, 1 stick (115 g)
1 teaspoon instant coffee
1 cup dark chocolate, chopped (170 g)
⅓ cup sugar (65 g)
1 tablespoon vanilla
1 pinch salt
3 large eggs
fresh raspberry, for serving
powdered sugar, for serving
Instructions
Make the tart dough: add the butter to a medium bowl and sift in the powdered sugar through a fine-mesh sieve. Using an electric hand mixer, beat until smooth.
Beat the egg and add half at a time to the butter mixture, beating well to incorporate between additions.
Sift in the flour and cocoa powder, and add the salt. Using a rubber spatula, mix the dough until the cocoa powder is evenly distributed. Wrap the dough in plastic wrap.
Chill in the refrigerator for at least 30 minutes, or overnight (if you chill the dough overnight, let it sit at room temperature for 15-30 minutes before rolling out).
Preheat the oven to 375˚F (190˚C).
Grease a 9-inch (23-cm) tart pan and roll out the chilled dough to an 11-inch (28-cm) circle. Roll the dough around the rolling pin, then unroll the dough over the pan.
Press the dough against the bottom and sides of the pan, then use the rolling pin to roll over the top of the pan, cutting off any excess dough (re-roll any excess dough and bake into cookies, if desired). Press the dough gently against the pan once more. Using a folk, prick some holes in the bottom of the crust so it doesn't puff up.
Bake for 15 minutes, then remove the tart shell from the oven and reduce the temperature to 300˚F (150˚C)
Make the filling: in a medium saucepan, heat the pan over high heat. Combine the water and butter, and bring to a boil. Add the instant coffee and stir until dissolved.
Add the chocolate, sugar, and vanilla to a medium bowl and pour the hot butter mixture over. Whisk until the chocolate is melted and the mixture is glossy.
Add the eggs and whisk well to combine. Pour the filling into the par-baked shell. Bake for 12-15 minutes, or until chocolate is mostly set but the center jiggles slightly.
Cool the tart for at least 30 minutes, or until cool to touch. Garnish with raspberries and sift powdered sugar over the top. Slice and serve.
Enjoy!
Watch the recipe video here:
This beautiful chocolate tart is the silkiest thing you'll eat all summer ?FULL RECIPE: https://tasty.co/recipe/silkiest-chocolate-tartGet the strainer featured in this video and other gadgets in our 19-piece gadget set HERE:https://bzfd.it/2MY2htb – We may make some $$ if you buy!

Posted by Tasty on Tuesday, June 26, 2018