Veggie Chili Cornbread Casserole
Veggie Chili Cornbread Casserole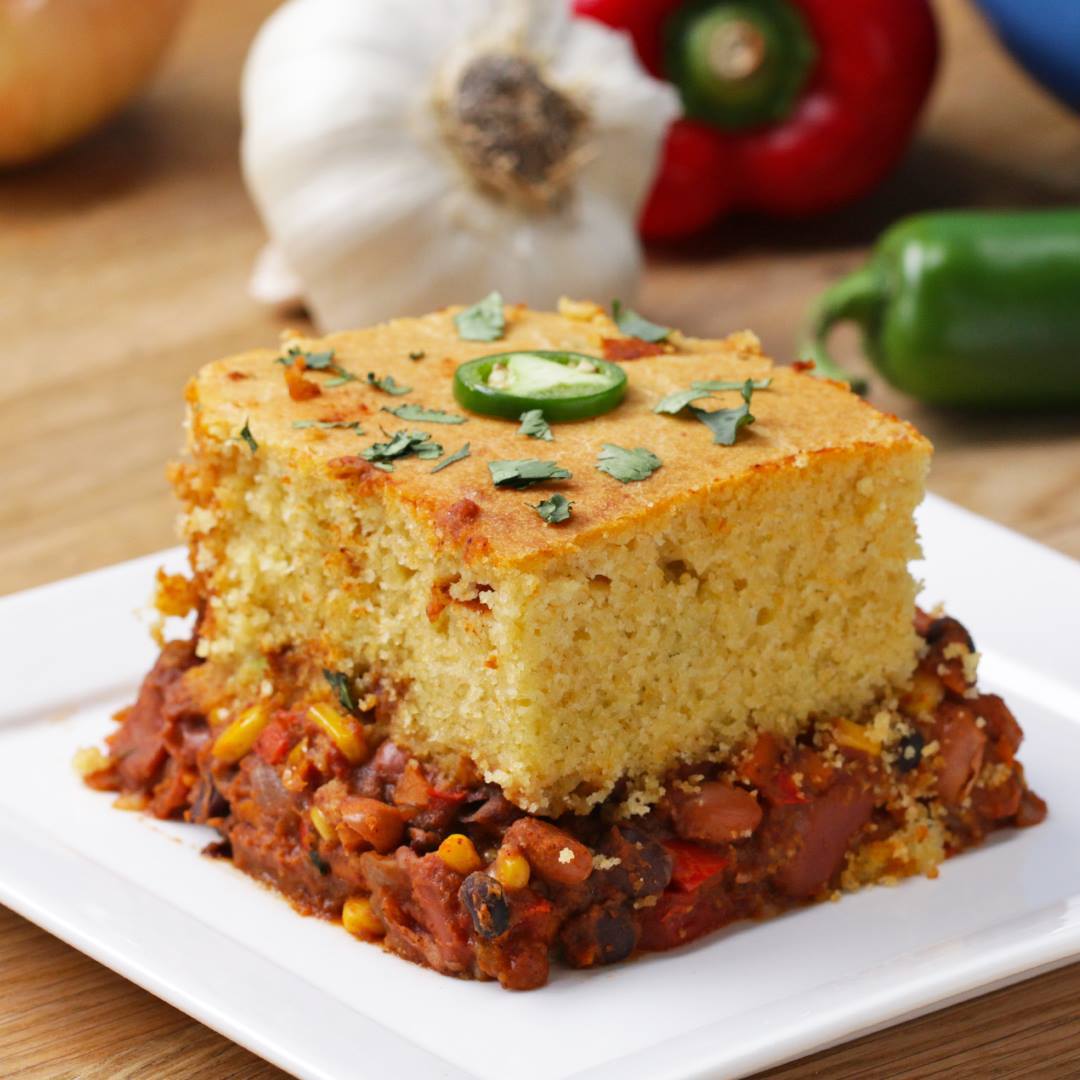 Ingredients
CHILI
2 tablespoons olive oil
1 medium yellow onion, chopped
1 large carrot, peeled and chopped
1 large red bell pepper, chopped
1 teaspoon dried oregano
2 teaspoons cumin
2 tablespoons chili powder
1 ½ teaspoons smoked paprika
¼ teaspoon cinnamon
4 cloves garlic, minced
salt, to taste
pepper, to taste
28 oz diced tomato, 1 can with juices (795 g)
15 oz black beans, 1 can, rinsed and drained (425 g)
15 oz kidney bean, 1 can, rinsed and drained (425 g)
15 oz pinto bean, 1 can, rinsed and drained (425 g)
1 cup frozen corn (175 g)
1 tablespoon lime juice
2 cups vegetable broth (480 g)
CORNBREAD
1 large egg
1 ½ cups milk (360 mL)
1 ½ cups yellow cornmeal (225 g)
1 cup all-purpose flour (125 g)
2 tablespoons brown sugar, granulated
1 teaspoon salt
1 ½ teaspoons baking powder
½ teaspoon baking soda
5 tablespoons unsalted butter, melted
1 jalapeño, small, chopped
GARNISH
1 jalapeño, sliced
2 tablespoons fresh cilantro, chopped
Instructions
In a large Dutch oven, heat the olive oil over medium heat until shimmering. Add the onion, carrot, and bell pepper and stir. Cook for about 8 minutes, until the vegetables are tender.
Add the oregano, cumin, chili powder, smoked paprika, cinnamon, garlic, salt, and pepper. Stir and cook for about 2 minutes, until fragrant.
Add the tomatoes, black beans, kidney beans, pinto beans, and corn and stir to combine.
Add the lime juice and vegetable broth and stir. Increase the heat to high and bring the chili to a boil, then reduce the heat to medium-low and simmer uncovered for about 30 minutes, stirring occasionally.
Preheat the oven to 400°F (200°C).
In the meantime, prepare the cornbread batter: In a medium bowl, whisk the egg and milk until well-combined.
In a large bowl, combine the cornmeal, flour, brown sugar, salt, baking powder, and baking soda.
Pour the wet ingredients into the dry ingredients and whisk until smooth. Add the melted butter and stir to combine. Add the jalapeño and stir to incorporate.
Remove the chili from the heat. Pour the cornbread batter over the chili and use a spatula to smooth the top and make sure it covers the chili completely.
Bake for 25-30 minutes, until the cornbread is fully cooked and a toothpick inserted in the center comes out clean. Let cool for about 10 minutes.
Garnish the cornbread with sliced jalapeño and chopped cilantro.
Enjoy!
Watch the recipe video here:
This chili cornbread casserole is perfect for summer cookouts ?Get the recipe: https://tasty.co/recipe/veggie-chili-cornbread-casserole

Posted by Tasty on Friday, June 8, 2018