Eggplant Parmesan Boats
If you crave more eggplant with your eggplant parmesan, look no further than these savory, saucy boats.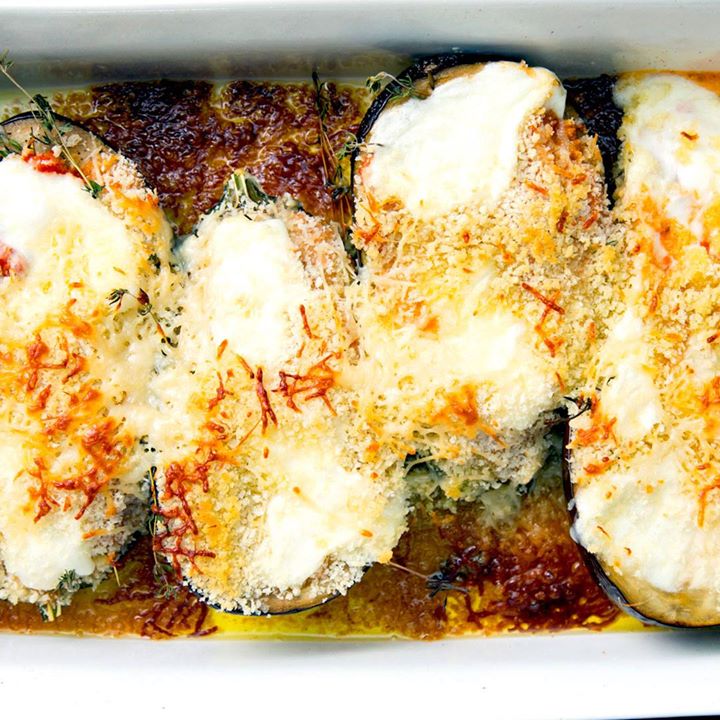 Ingredients
2 medium eggplants
1 bunch thyme, divided
10 cloves garlic, 2 finely diced, 8 whole
½ cup plus 4 tablespoons olive oil
1 tablespoon salt
1 tablespoon fresh ground black pepper
1 medium onion, small dice
1 can crushed tomatoes
8 sprigs fresh oregano
24 cherry tomatoes
1½ cups coarse breadcrumbs
6 small, fresh mozzarella/burrata
½ cup grated Parmesan
2 tablespoons basil
Instructions
Preheat oven to 400 degrees.
Cut each eggplant in half lengthwise, and spoon out flesh, leaving ½-inch border around each. Chop eggplant and reserve for the tomato sauce.
Divide eggplant rinds, thyme sprigs, whole garlic cloves, and ½ cup oil between 2 large rimmed baking sheets. Turn eggplants to coat with oil; season with salt and pepper and place cut side down. Cover baking sheets tightly with foil, and bake until eggplants are very soft, 40 to 45 minutes.
While the eggplant is roasting, heat two tablespoons of oil in a medium skillet over medium-high heat. Add onion and cook, stirring occasionally, until beginning to brown, 6 to 8 minutes. Add chopped garlic and cook, stirring, until fragrant, about 1 minute. Add chopped eggplant and sauté for two minutes. Add tomatoes, crushing them with your hands as you add them; season with oregano, salt and pepper.
Simmer, partially covered, mashing tomatoes occasionally, until slightly thickened, 15 to 20 minutes. Add fresh cherry tomatoes and thyme and set aside.
In a medium bowl, toss breadcrumbs and remaining 2 tablespoons oil. Transfer eggplants, thyme and garlic to 2 large, shallow baking dishes, placing eggplants cut side up. Top eggplants with tomato sauce and mozzarella, then sprinkle with breadcrumbs and Parmesan. Bake until mozzarella is bubbling and breadcrumbs are golden, 25 to 30 minutes. Garnish with basil. Serve warm.
Watch the recipe video here:
The key to eating your veggies is stuffing them with delicious marinara and cheese.Save this recipe: https://taste.md/2v0TIXCMore recipes on our app ? https://taste.md/2sltyPt

Posted by Tastemade on Wednesday, August 23, 2017