Sheet Pan Buffalo Chicken Quesadilla
Quesadillas - the grilled cheese of the tortilla world. Our recipe will have you craftily making a massive one and filling it with everyone's favourite thing, buffalo chicken, along with delicious mozzarella. The perfect thing to make for a few friends on game day.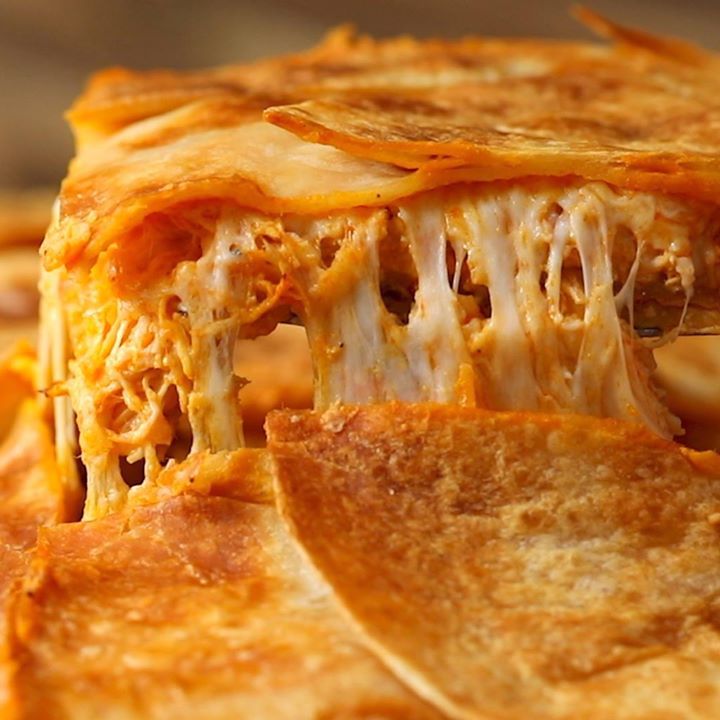 Ingredients
10 medium tortilla wraps
4 chicken breasts, shredded
1 cup hot sauce
½ cup cream cheese
1½ cups grated mozzarella
¾ spring onions, finely chopped
1 tsp salt
1 tsp pepper
Instructions
Preheat the oven to 180°C/360°F.
Line your baking tray and brush with butter. Cut 3 of the tortillas in half and place the straight sides against the edge of the tray, then cover the remaining space in the sheet with whole tortillas. If you don't have enough because your baking tray is too big then play around with cutting a few more to size.
In a bowl mix together the shredded chicken with the hot sauce, cream cheese, mozzarella, spring onions and seasoning.
Spread this mix on the tortillas then top with more tortillas and spread again with butter. Top with a sheet of baking paper and another tray, then bake for around 10/15 minutes. Flip the tray and remove the bottom piece of paper and grill for a further 5 minutes until crispy.
Watch the recipe video here: