Baked Brie Mac 'n' Cheese
What's better than cutting into baked Brie in a puffed pastry? Cutting in to discover mac 'n' cheese inside!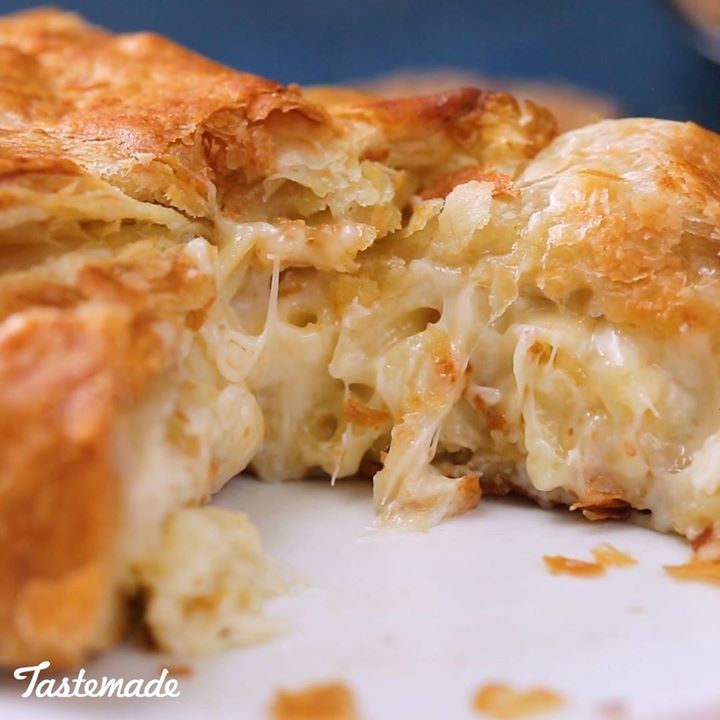 Ingredients
1 (8-ounce) wheels Brie cheese
1 tablespoon all-purpose flour
1 tablespoon butter
¾ cup whole milk, warmed
Pinch of nutmeg, grated
½ cup mozzarella, shredded
2 cups macaroni noodles, cooked
1 puff pastry sheet
Salt and pepper, to taste
Egg wash (1 egg plus 1 tablespoon water)
Instructions
Preheat oven to 400 degrees. Line a baking sheet with parchment paper.
Using a serrated knife, carefully cut the top off the Brie wheel. Try to remove the top in one piece. Scoop out as much of the creamy cheese as you can to create a cheese-like bowl. Save cheese for sauce.
In a small saucepan, add flour and butter. Cook for a few minutes until golden brown. Pour in milk and whisk vigorously. Grate a small amount of nutmeg into the milk. Next, add the pieces of Brie and the shredded mozzarella. Whisk until all the cheese is melted and bubbly. Add cooked macaroni noodles and stir to combine. Let mixture cool slightly before the next step.
Roll out puff pastry slightly and place hollowed out Brie bowl in the center. Scoop macaroni and cheese into the bowl until full and cover with Brie top. Fold dough over cheese wheel, and brush with egg wash.
Place on prepared baking sheet sheet and bake for 35 to 40 minutes. Allow bowl to rest for 10 minutes before serving. Cut slices and serve as an appetizer or indulge by yourself. Enjoy!
Watch the recipe video here:
To brie, or mac IN brie? That is the question.Full Recipe: taste.md/2nB1a70

Posted by Tastemade on Saturday, February 3, 2018