Instant Pot Chicken and Dumplings
This simple one-pot recipe is fast to assemble from ingredients right out of the pantry and freezer, so you can set it and forget it–you've got better things to do! It's also packed with tasty vegetables like carrots, peas and celery and wholesome chicken breast, so you know you're getting a hearty meal. Remember that natural pressure release time is cooking time, so as tempting as it is to shortcut the full natural release, don't do it! You will likely end up with underdone dumplings.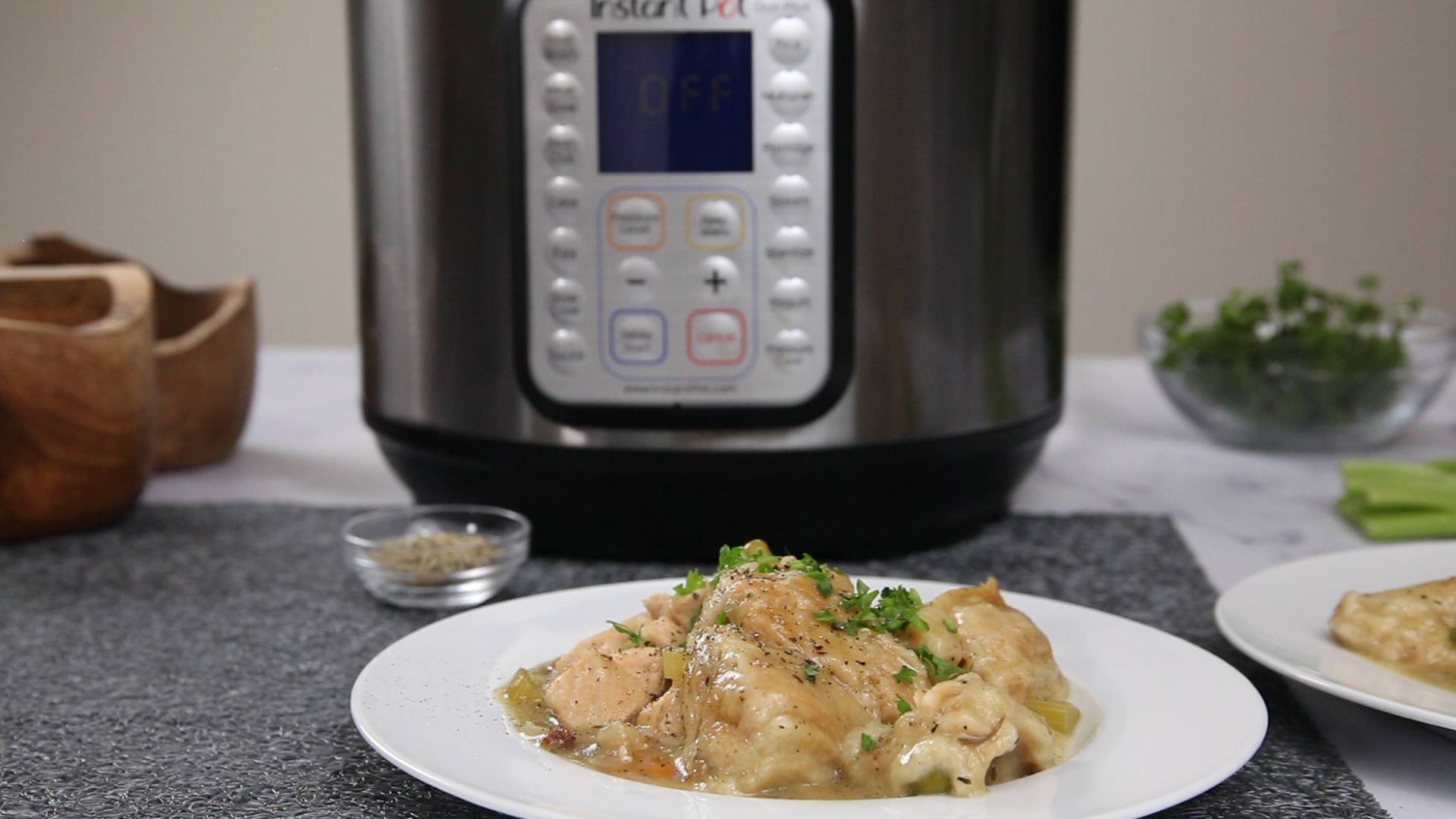 Ingredients
1 tbsp olive oil
2 lbs chicken breasts, cubed
1 small onion, finely chopped
2 cloves garlic, minced
3 cups low sodium chicken stock
1 tsp each dried thyme, dried rosemary, poultry seasoning, pepper
1 cup celery, chopped
2 cups frozen mixed peas and carrots
2 cans low sodium cream of chicken soup (10.5 oz)
1 16 oz can refrigerated buttermilk or southern style biscuits, each biscuit quartered
Chopped parsley for garnish
Instructions
Add olive oil to the Instant Pot. Using the display panel select the SAUTE function.
When oil gets hot, add the chicken to the pot in one even layer and brown, 2 minutes per side. Meat will not be cooked through. Do not crowd the pot–you may have to work in batches.
Add onion to the pot and saute until soft, 3-4 minutes. Add garlic and cook for 1-2 minutes more.
Add broth, thyme, rosemary, poultry seasoning, and pepper to the pot and deglaze by using a wooden spoon to scrape the brown bits from the bottom of the pot.
Add the celery, peas, and carrots and stir.
Pour the two cans of cream of chicken evenly over the top–do not stir.
Spread the quartered biscuit pieces over the top in an even layer. Secure the lid, making sure the vent is closed.
Using the display panel select the MANUAL function*. Use the +/- keys and program the Instant Pot for 5 minutes.
When the time is up, let the pressure naturally release until the pin drops (typically 20-25 minutes).
Adjust seasonings and serve warm. Garnish with chopped parsley.
Watch the recipe video here: