Caramel Filled Chocolate Cookies
Chocolate cookie dough is wrapped around caramel filled chocolate candies. We have these at Christmas time each year. They are delicious! Hope you enjoy them too.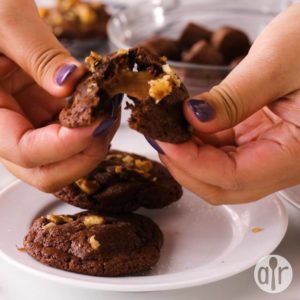 Ingredients
1 cup butter, softened
1 cup white sugar
1 cup packed brown sugar
2 eggs
2 teaspoons vanilla extrac
t2¼ cups all-purpose flour
1 teaspoon baking soda
¾ cup unsweetened cocoa powder
1 cup chopped walnuts
1 tablespoon white sugar
48 chocolate-covered caramel candies
Instructions
Beat butter until creamy. Gradually beat in white sugar and brown sugar. Beat in eggs and vanilla. Combine flour, baking soda, and cocoa. Gradually add to butter mixture, beating well. Stir in ½ cup walnuts. Cover and chill at least 2 hours.
Preheat oven to 375 degrees F (190 degrees C).
Combine remaining ½ cup nuts with the 1 tablespoon sugar. Divide the dough into 4 parts. Work with one part at a time, leaving the remainder in the refrigerator until needed. Divide each part into 12 pieces. Quickly press each piece of dough around a chocolate covered caramel. Roll into a ball. Dip the tops into the sugar mixture. Place sugar side up, 2 inches apart on greased baking sheets.
Bake for 8 minutes in the preheated oven. Let cool for 3 to 4 minutes on the baking sheets before removing to wire racks to cool completely.
Watch the recipe video here: