Chef John's Candied Yams
Sure, everyone knows orange-fleshed sweet potatoes aren't really yams, but it makes for a shorter name. I'm not a huge sweet side dish person, but I make an exception for these candied yams that use lemon instead of orange juice as a sweetener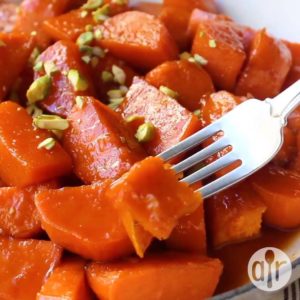 Ingredients
Yams:
3 tablespoons kosher salt
2 quarts cold water
3 pounds orange-fleshed sweet potatoes, peeled and cut into 2-inch pieces
Glaze:
1 cup brown sugar
4 tablespoons unsalted butter
½ cup freshly squeezed lemon juice
¼ cup maple syrup
½ teaspoon ground ginger
¼ teaspoon ground cinnamon
1 pinch cayenne pepper
Salt to taste
Chopped pistachios, pecans, or walnuts for garnish
Instructions
Stir salt into 2 quarts cold water in a large pot. Transfer sweet potato pieces to pot and place over high heat; bring to a simmer. Reduce heat to medium-low and simmer until potatoes are not quite tender but still cooked, 5 to 7 minutes. Use the tip of a knife to test for doneness. Drain.
Place brown sugar, butter, lemon juice, maple syrup, ginger, cinnamon, cayenne, and pinch of salt in a skillet. Place over medium-high heat, stirring until glaze ingredients melt and start bubbling. Continue cooking, stirring occasionally, until mixture begins to thicken up, 4 to 6 minutes.
Transfer drained sweet potatoes to skillet. Raise heat to high and cook and stir until potatoes are coated with glaze and very tender, and glaze has thickened, 5 to 8 minutes. Transfer to serving dish; garnish with chopped nuts.
Watch the recipe video here: