Jumbo Chocolate Chip Cookie
A gooey chewy chocolate chip cookie, only jumbo sized!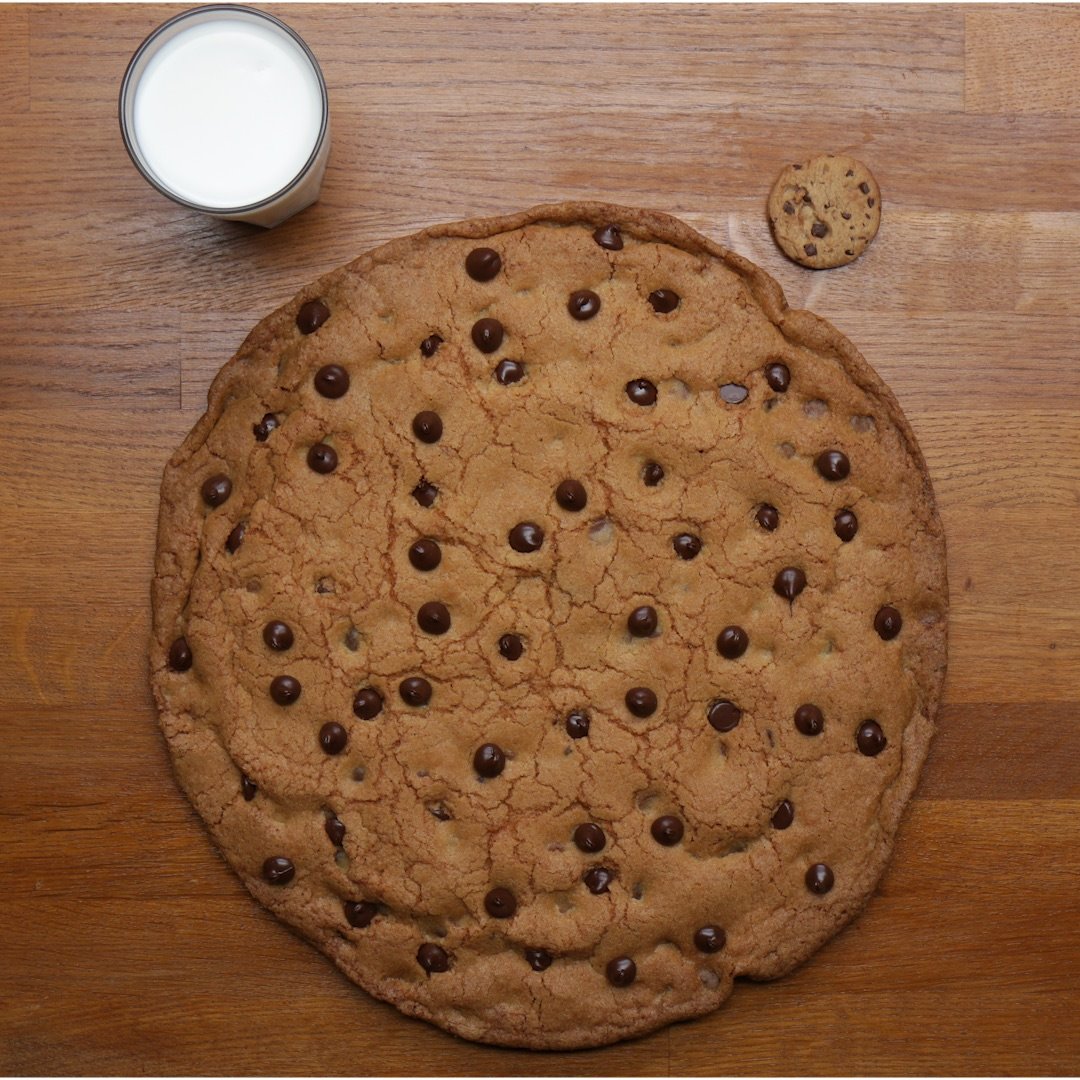 Ingredients
220 grams plain flour
1 teaspoon salt
1 teaspoon Dr. Oetker bicarbonate of soda
220 grams unsalted butter, melted and cooled
120 grams light brown sugar
150 grams caster sugar
2 teaspoons Dr. Oetker madagascan vanilla extract2 eggs, beaten
1 packet Dr. Oetker jumbo milk chocolate chips
2 packets Dr. Oetker jumbo dark chocolate chips
Instructions
Start by lining a large round pizza baking tray with greaseproof paper. Set aside. Also line a round cake tin with greaseproof paper and set aside.
Sieve together the flour, salt, and bicarbonate of soda. Set aside.
In a large bowl, add the light brown sugar, caster sugar, vanilla extract, and butter. Using an electric hand whisk mix until pale and fluffy. This may take around 5–10 minutes.
Add the egg and mix until fully incorporated.
Add the reserved dry ingredients in thirds, mixing well in between.
Add 1 packet of jumbo milk chocolate chips and 1 packet of dark chocolate chips, stirring to combine.
Pour the batter into the lined cake tin and place in the freezer for 15 minutes.
Meanwhile preheat the oven to 150°C.
After 15 minutes, turn out the firmed cookie batter onto the lined pizza tray and place in the oven for 35–40 minutes. After the first 20 minutes, remove the cookie from the oven and sprinkle over the remaining 1 packet of jumbo chocolate chips.
Place back in the oven for another 15 minutes or until crisp on the outside and gorgeously gooey in the center. Enjoy!
Watch the recipe video here:
It's gooey, it's chewy, and it's the BIGGEST chocolate chip cookie your oven can handle! ??

Posted by Proper Tasty on Wednesday, October 24, 2018