Chicken Parmigiana
You work hard all week — you deserve some real comfort food.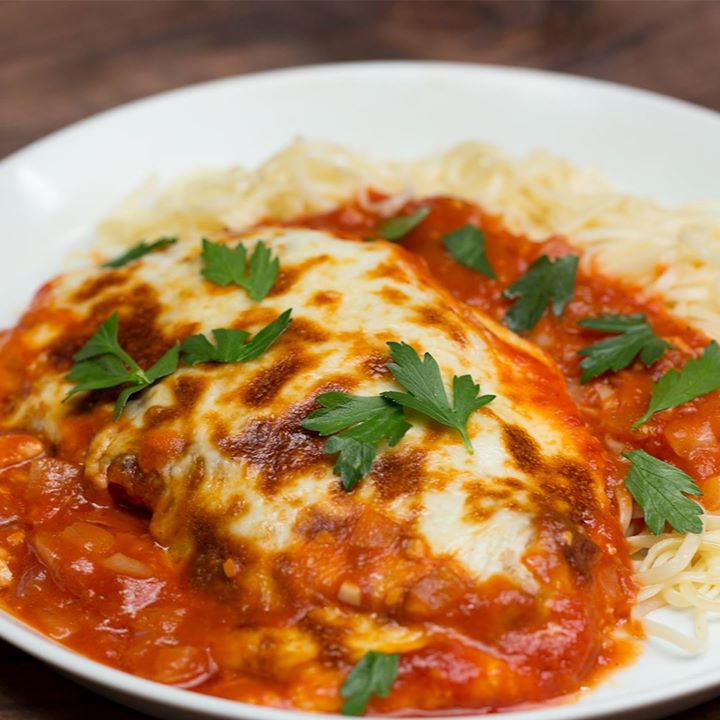 Ingredients
2 boneless, skinless chicken breasts
½ cup vegetable oil
2 cloves garlic, minced
1 cup onion, chopped
3 cups tomato sauce
1 sprig basil
2 eggs, beaten
1 cup Italian breadcrumbs
½ cup Parmesan cheese, freshly grated
4 ounces mozzarella cheese, sliced into coins
1 cup Italian breadcrumbs
4 ounces mozzarella cheese
200 grams (about ½ pounds) thin linguine, cooked
¼ cup fresh parsley, chopped
Salt and pepper
Instructions
Pound chicken until ⅓-inch thick. Season with salt and pepper.
Dip chicken in the beaten eggs, then roll in breadcrumbs.
Heat oil in a large oven-safe skillet. When oil is hot, brown chicken on all sides. Remove and set aside.
Preheat oven to 350°F.
Discard excess oil from pan, leaving about 1 tablespoon of oil in the skillet. Sauté chopped onion and garlic until onions are slightly translucent. Stir in tomato sauce, drop in a sprig of basil, and bring to simmer for 10 minutes. Remove the basil.
Place chicken in the sauce. Sprinkle Parmesan over the chicken and place a round of mozzarella on top of each chicken breast. Transfer to oven and bake at 350°F for 15 minutes, or until cheese has melted and browned.
Serve with linguine, and garnish with parsley.
Watch the recipe video here:
Authentic Chicken Parmigiana Save this recipe: https://taste.md/2bZSTGz

Posted by Tastemade on Monday, January 29, 2018