Giant Grilled Cheese
The ultimate party food.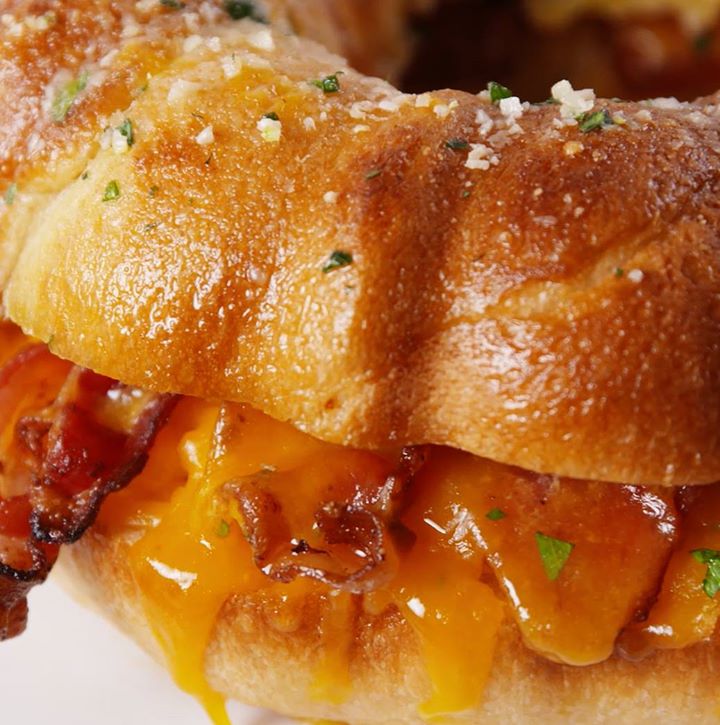 Ingredients
2 11 oz. tubes refrigerated french bread dough
½ lb. bacon
4 c. shredded Cheddar cheese
2 tbsp. melted butter
2 cloves garlic, minced
¼ c. freshly grated Parmesan
1 tbsp. chopped parsley
Tomato soup, for serving
Instructions
Preheat oven to 350°. Grease a bundt pan with cooking spray.
Place bread dough into the bottom of the pan and pinch all ends together to form a single ring. Bake until golden brown and cooked through, about 25-30 minutes. Let cool for 5 minutes, then invert onto cooling rack to cool completely.
Meanwhile, cook bacon in a large skillet over medium heat until crispy. Drain slices on paper towels.
Slice baked bread in half. On a large baking sheet, place one half cut side-down and the other cut side-up. Top the cut side-up bottom half with cheese and bacon. Brush the other half with melted butter and sprinkle with garlic, Parmesan and parsley.
Bake until the cheese is melted, 3-5 minutes.
Place the garlicky half of the bread on top of the melted cheese and bacon. Slice into wedges and serve warm with a bowl of warm tomato soup in the middle for dunking.
Watch the recipe video here: